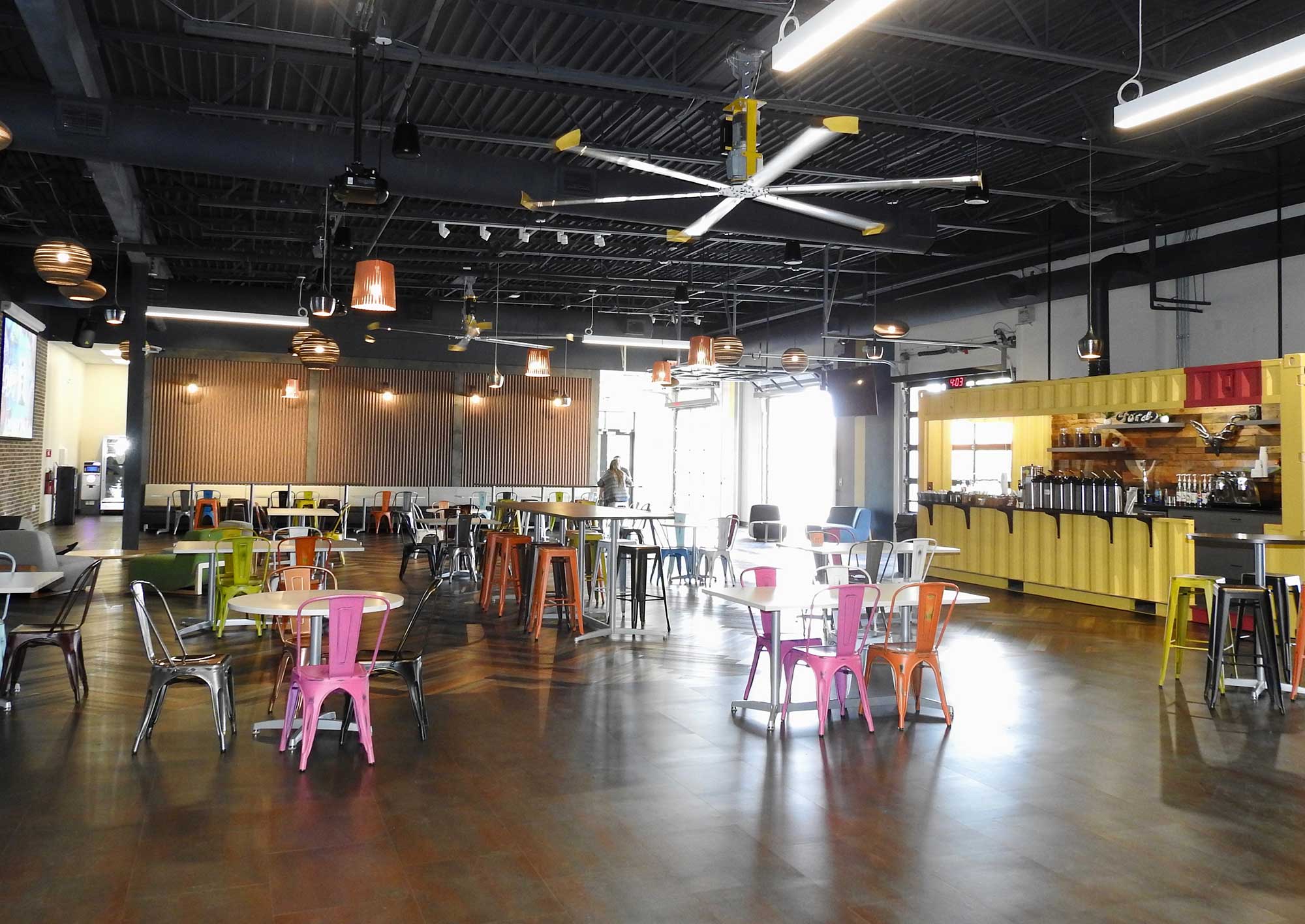 14 Oct

Featured Breakroom: Turn5
An Untraditional Approach
Turn5
Philadelphia, PA
Car enthusiasts seeking quality after-market auto parts recognize Turn5 as the e-commerce leader in the industry. Their team of experts help customers build the car of their dreams and express their own individual personality and style. When it came to designing a new break room for their Philadelphia area headquarters, Turn5 took inspiration from their customers and expressed their own style with a design that maximizes function, comfort, and fun. Jayme Guenther, Employee Project and Buildings Manager at Turn5 explains, "We were looking for a complete escape from the look and feel of the rest of the office. A place where people could fully relax and feel encouraged to interact with each other in a more personal way."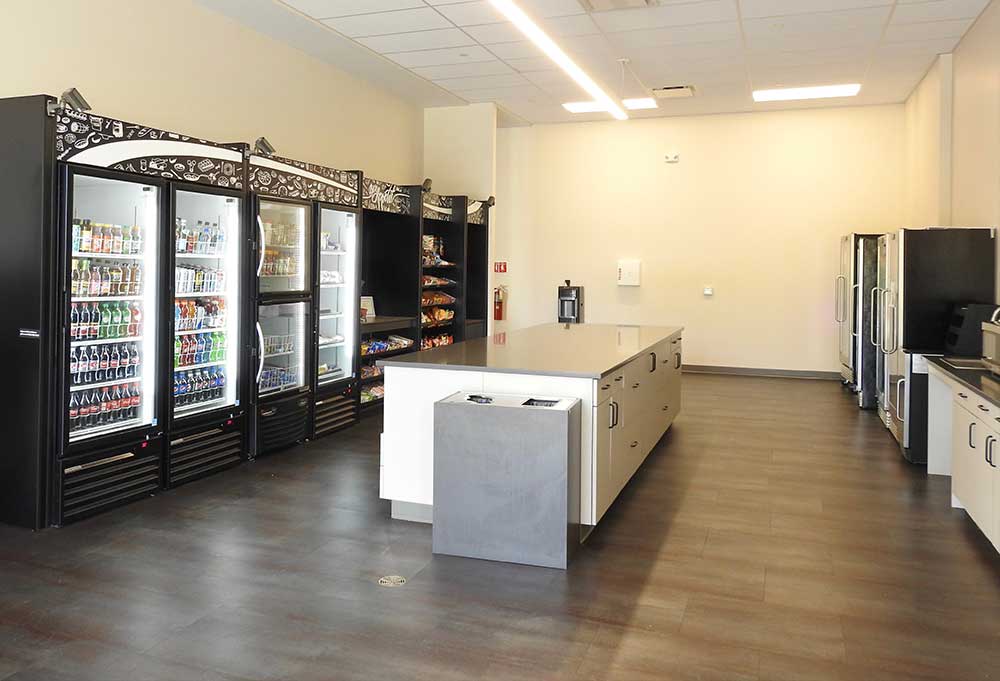 A Creative Gathering Space
An eclectic mix of colors and materials playfully come together in Turn5's breakroom. Wooden floors are surrounded by walls of brick and corrugated metal. Colorful chairs are grouped around café and hi-top tables. Hanging from the industrial style ceiling are an assortment of pendant lights as well as two giant fans that resemble helicopter propellers. Giant retractable screens broadcast company news, project presentations, and can even be used for playing video games.
Three massive glass garage doors pay homage to Turn5's love of cars and flood the room with natural light. The doors open to an inviting outdoor lounge that is also equipped with weather proof TV's, meeting areas and dining tables with umbrellas.
Turn5's Creative Director, Mike Cunningham, pulled these elements together to achieve his vision. His goal was to bring to life an area where employees could take a true break from their work day, be inspired to think differently, and where productive, impromptu meetings could take place. In addition, versatility was key. Turn5 effectively uses their break room to host, quarterly and annual meetings. Department heads often hold meetings in the break room as well.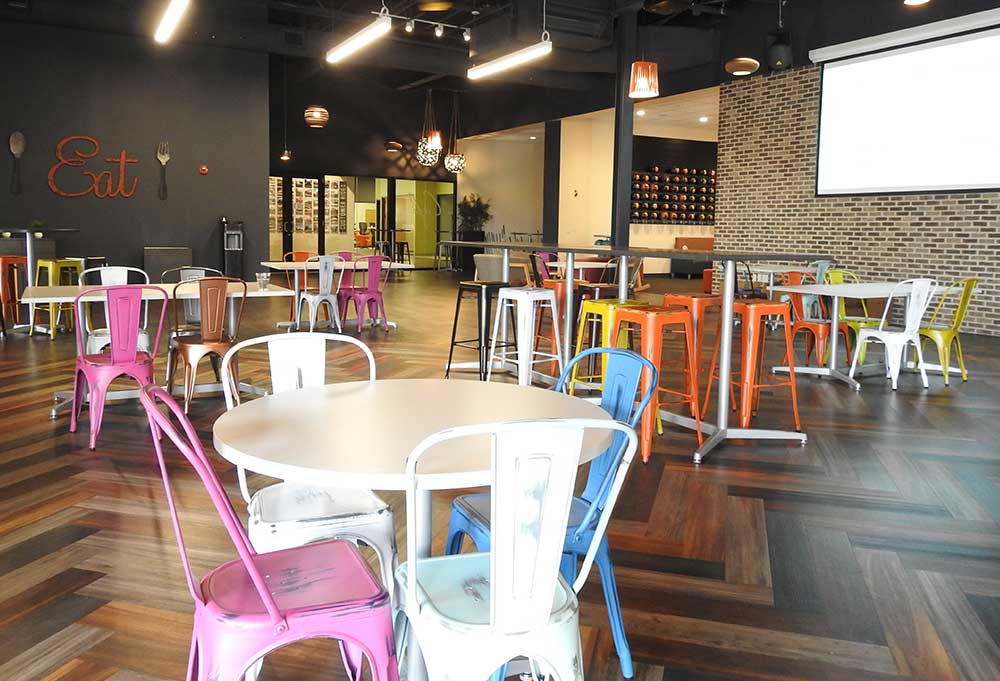 Personalized Food and Beverages
Jayme employed One Source Refreshment to create a crisp, clean micro-market layout specific to their needs. They also developed a mix of food and beverages that appeal to a wide variety of tastes, including those with special dietary needs. Gluten free products are in demand at Turn5 as well as vegan options. Their customized assortment is evaluated weekly and new items are recommended based on employee preferences.
Turn5 has taken beverage service to a whole new level by repurposing and completely customizing two shipping containers. One Source Refreshment worked with Turn5 to transform one of them into an indoor coffee shop that is staffed with a barista who not only knows each employee's name, but how they like their coffee too. One Source Refreshment stocks the shop and partners with Brock and Company, Inc. for staffing. It is one of the break room features that Turn5 employees love most. In addition, A full-service outdoor bar is used during supervised monthly, quarterly and annual gatherings. Turn5 also sponsors $2 Beer Fridays with all proceeds benefitting kids in need through the Make-a-Wish Foundation.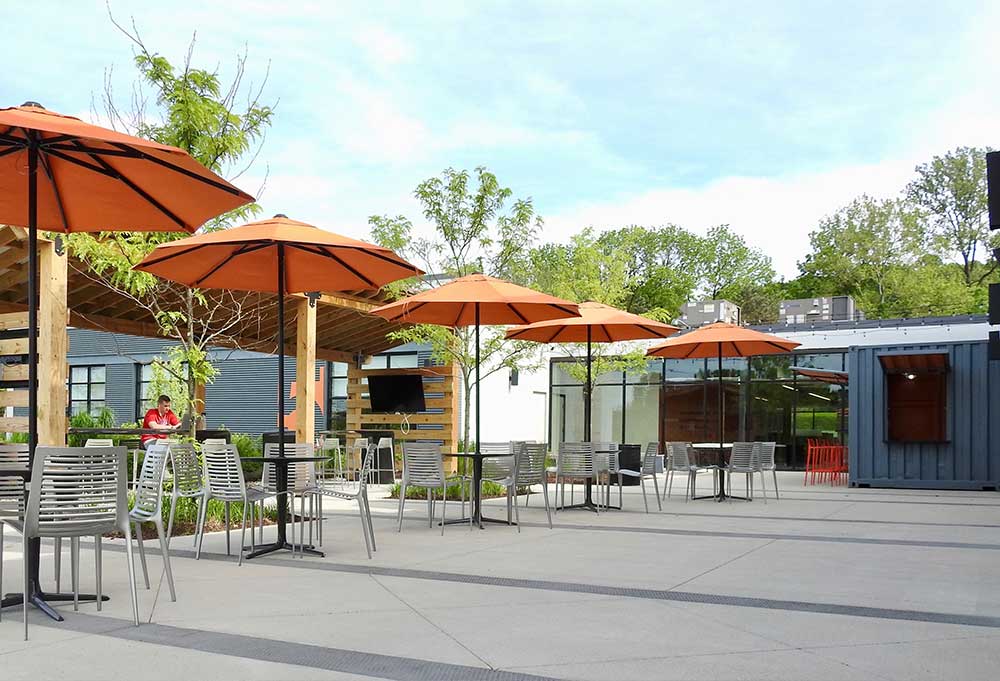 Fun & Games with a Purpose
Mike made it a priority to incorporate sports and games into the design of Turn5's break room. Employees gravitate to a full-sized bowling alley and virtual golf simulator every day and there is a dedicated area for corn hole games outside. Jayme notes that "people gather here towards the end of the day to spend extra time together and managers can reserve lane time with their groups to blow off steam. The friendly competition really promotes comradery and team building."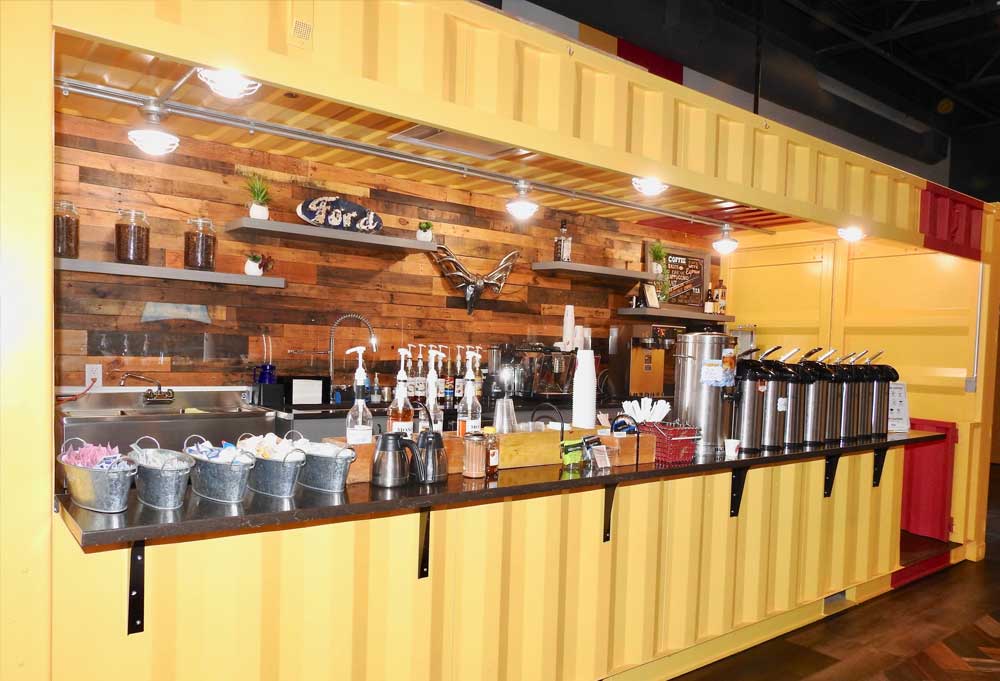 The Heart of Corporate Culture
Turn5's breakroom is a big contributor to their high level of employee satisfaction and retention. It plays a major role in attracting new talent too. "People we interview quickly realize that there are lots of cool things about working at Turn5. We approach our work in a non-traditional way, and we are really efficient at getting things done." Jamie says. "This breakroom represents the essence of our corporate culture. It is collaborative, relaxed, and lots of fun."
Company: Turn5, award winning, e-commerce retailer of after-market auto parts for car enthusiasts
Location: Philadelphia, PA
Employees on location: 120+ employees
Unique attributes: Custom coffee bar complete with barista
Breakroom size: 3,000 square feet, plus outdoor space
Best feature: Full sized bowling alley
Most important asset: A flexible and creative service provider that ensures a unique coffee shop experience and caters to special dietary needs
Main service provider: One Source Refreshment, based in Pottstown, PA