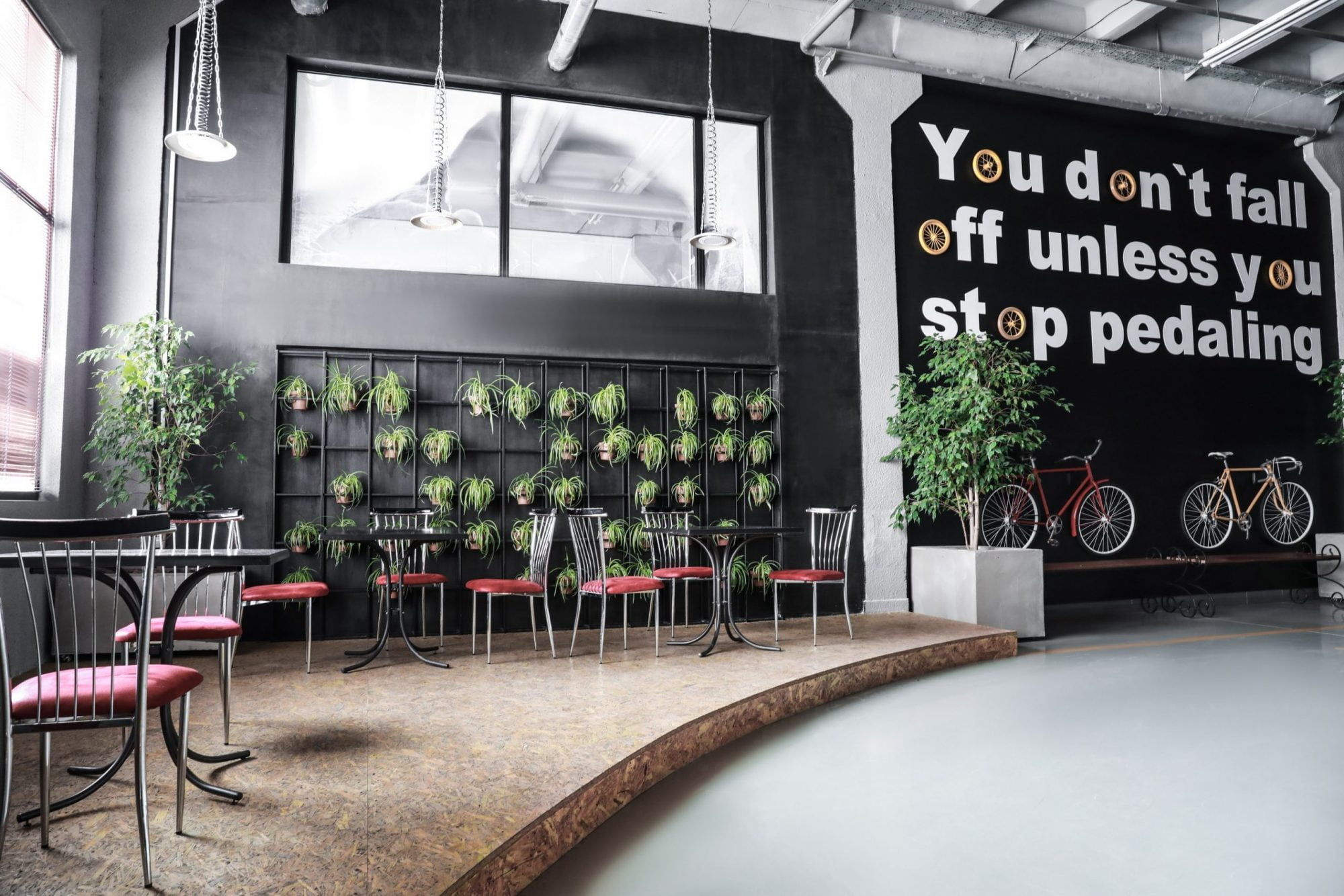 16 Mar

Transform the Way Employees Work with an Amazing Breakroom
Advanced or state-of-the-art work spaces can transform how employees work and impact an organization's success. This type of space includes physical and digital environments that have been designed to grow company culture, create impactful experiences and support a business's objectives. Corporate themes such as innovation, experimentation, collaboration and sustainability are translated into a workplace's overall environment as well as within smaller spaces.
One type of "smaller space" is the breakroom. Studies show that taking breaks at work boost job performance, improving a company's bottom line. Spaces that combine color, utility, comfort and thoughtfulness encourage employees to relax and recharge before returning to work, but unfortunately not all breakrooms are made equal.
Before jumping right into a breakroom or any type of workplace remodel, it's important to consider an important point expressed by M Moser, a global design firm, "People are driven by habits. Any changes that disrupt someone's routine need to be carefully evaluated and managed. People are reasonable, but they need to be listened to."
Considering this, let's look at three components of a breakroom that should be addressed before any changes are made.
Function
There are many different factors to consider when designing a breakroom's physical space. Who will use the space? What will it be used for? Will it only be used as a place to eat or grab a coffee, or will it also be used for relaxation or company meetings? Understanding the purpose(s) before making design decisions allows the overall design to encompass current and future needs. Some employers offer open spaces with games such as Foosball or table tennis while others focus on multiple, smaller and unique seating arrangements with plenty of electrical outlets.
Energy or Vibe
The next area to consider is the vibe or energy of the space. Designing a space for a specific experience is a bit more complicated as different parts of the room come together to make it a cohesive space. For example, colors, textures, lighting, seating arrangements, layout, plants, and the layout all contribute to the experience an employee will have when walking into the room.
Textures can come from a variety of materials including bricks or rocks, wood, leather/pleather, metal, glass and plants. Understanding the impact colors can have is also important as different colors can give the same space a different energy, but there is one caveat. Before choosing new colors, be aware that colors can affect people differently.
The Refreshments
Do the refreshments offered in your breakroom match the types of refreshments that are important to your employees? If the answer is no, then it's time to learn what is. Once there is a clear list, the next step involves considering different refreshment options including coffee service, healthy snacks and beverages, and fresh food. The final menu should reflect both your organization's needs and the refreshments your employees enjoy.
Two of the organizations featured on CoolBreakrooms are great examples of an amazing breakroom: Turn5 and POPSUGAR.  
Located in Philadelphia, PA, Turn5 designed a large indoor/outdoor space that includes several smaller spaces with multiple seating areas and a completely different vibe than the rest of the office. Combining an eclectic mix of colors, materials and design features with giant retractable screens that can be used for presentations and video games, a bowling alley, a barista staffed coffee shop, a micro-market that offers special dietary options and an inviting outdoor lounge with a bar resulted in a large multi-functional space that everyone loves to escape to.
POPSUGAR, a San Francisco-based company, turned a traditional breakroom into a welcoming space that encourages community and has the feel of a kitchen in a high-end home. The large windows created a bright and airy space with lots of natural light that draws in employees. Open coolers, built-in snack racks and coffee machines fill the space with a wide assortment of refreshments. Multiple seating areas in the breakroom and throughout the office including standalone booths and cozy nooks with comfy chairs encourage employees to find the perfect spot to work or have a meeting.
Does your breakroom match your vision of what the space could be? If you'd like some ideas for improving your breakroom design or refreshment options or would like to have your amazing breakroom featured on Cool Breakrooms, call (800) 795-6799 today!