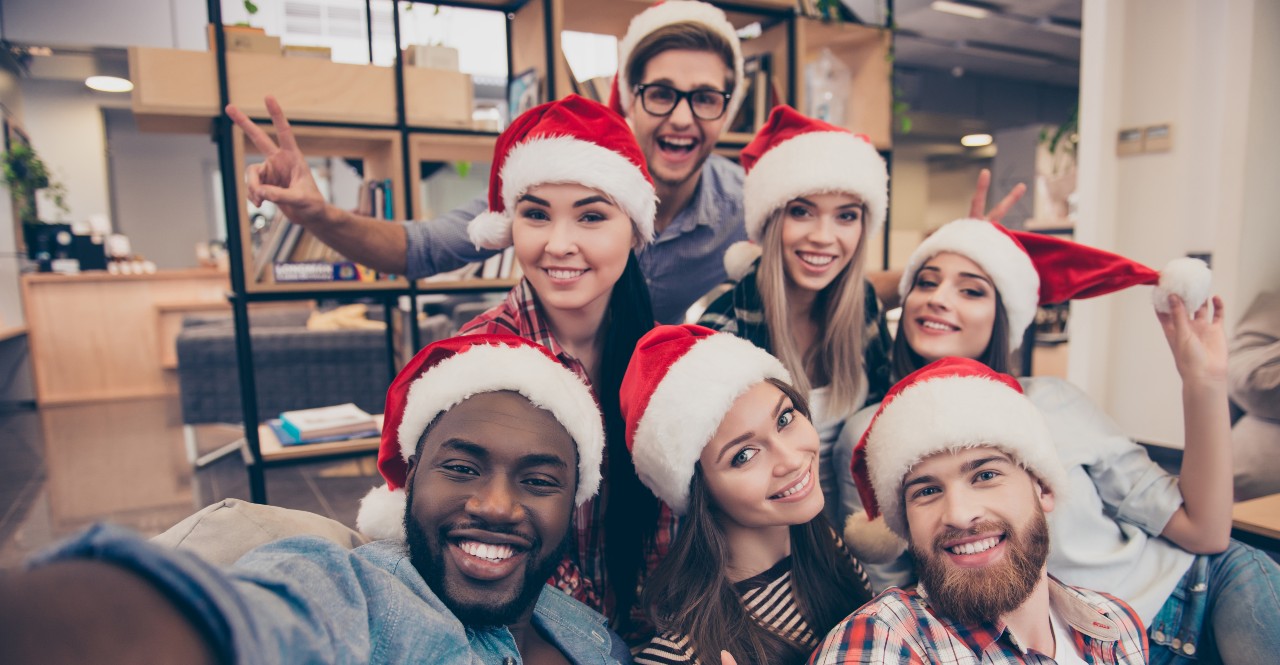 01 Dec

Holiday Ideas for your Breakroom

Companies that bring holiday cheer to the breakroom enjoy happier employees. This means higher retention rates and a more productive team. It's a win-win.

Need ideas on how to bring a holiday feel to your breakroom? We've got you. From decor to donations, Coolbreakrooms has pulled together some ideas perfect for this holiday season.
Give the Breakroom a Festive Look
Holiday decorations spread joy. This makes them a fitting addition to the breakroom during the holiday season. On breakroom tables or countertops cluster decorations to create a cohesive look. Use winter greens, bows, or battery-operated candles to set a festive mood. Why not also string holiday lights to brighten up the space? Hang them alone or with garlands around doorways or above breakroom cabinets. It's the perfect way to create a fun atmosphere for employees each time they stop by for a drink or snack.
Bring Tastes of the Season
Holidays are associated with certain smells and flavors. Your breakroom operator can help you add seasonal treats to the breakroom to satisfy your employees. You can also wow staff with a holiday office coffee station that includes flavored creamers and syrups for them to enjoy. Plant-based creamers are very popular. With flavors like gingerbread and peppermint, it's no wonder staff are loving them.
If your breakroom offers single-cup coffee service, that's a great place to bring in seasonal flavors as well. Opt for coffee pods full of flavor, like an autumn blend or hazelnut. Your staff will adore the additional coffee choices. Don't forget about seasonal hot teas. Flavors like cinnamon, peppermint, and winter spice add to that wonderful holiday feeling you are creating.

Plan a Company Party
Holiday parties are a great way to celebrate your team and foster community. Start with the basics: theme, food, drinks, and entertainment. Many breakroom operators can arrange catering services for your event and deliver special foods to the breakroom in honor of the occasion. Another option is to stock your micro-market and offer all of its food and beverages free for the day of your party.  Either way, your employees will love the free food and snacks!
Arrange to Help Others
Many people want to give back to their local community during the holiday season. Consider supporting a local charity as part of your holiday event. Look up local food banks, humane societies, or toy drives to find one looking for volunteers or donations. Then, invite your team to get involved. Post signs in the breakroom to spread the word. You can even use your breakroom space as a designated collection area for donations. Your staff will feel the holiday spirit when they are helping others and will appreciate you for coordinating it. Make sure to encourage buzz around the event on your social media accounts too.
The holiday season is a great time to show employees you care. Whether you turn your breakroom into a winter wonderland or play holiday music while packing meal kits for the needy, your employees will remember your efforts during this special time of year.
At Coolbreakrooms, we inspire amazing breakrooms and connect you with Authorized Service Providers who get the job done right. If your breakroom needs a boost, reach out today!