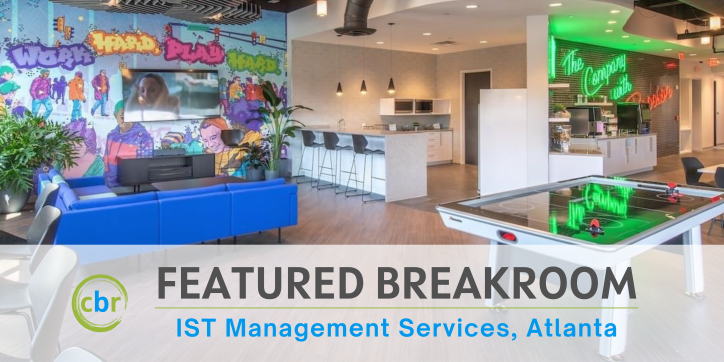 17 May

Building Connections and Community in the Breakroom

IST Management Services has taken its motto, "The company with passion," to a new level in its new Atlanta international headquarters breakroom design. According to Bradley Burgess, the VP of Marketing, the intention behind the office pantry café was to create a functional workspace where employees could dine, work, play, and relax.

As a thank you to their associates, IST wanted to offer free refreshments in the cafe. They were able to achieve this with the help of Linda Saldana, CEO of Seventh Wave Refreshments, and her team. She provided custom equipment and product solutions to fit their needs and vision for the space. Since the grand opening, Seventh Wave Refreshments has continued to supply IST's café with trendy snacks, beverages, and craft office coffee.

Encouraging Balance & Connection
What makes a healthy work-life balance? Typically, people believe work stays at the office while the fun happens at home. However, IST is changing this idea with their new office pantry design. For example, the artwork on the walls makes the space feel welcoming and energetic. "Work hard, play hard" is one phrase that stands out. It encourages employees to kick back and enjoy each other's company.
With an open layout, there are many options when choosing a place to sit. On a beautiful day, the outdoor patio is a perfect place to sip their morning brew. Or, if co-workers want to collaborate on a project, they can take advantage of the monitors in the booths. Additionally, there are couches to lounge on while watching a friendly air hockey game.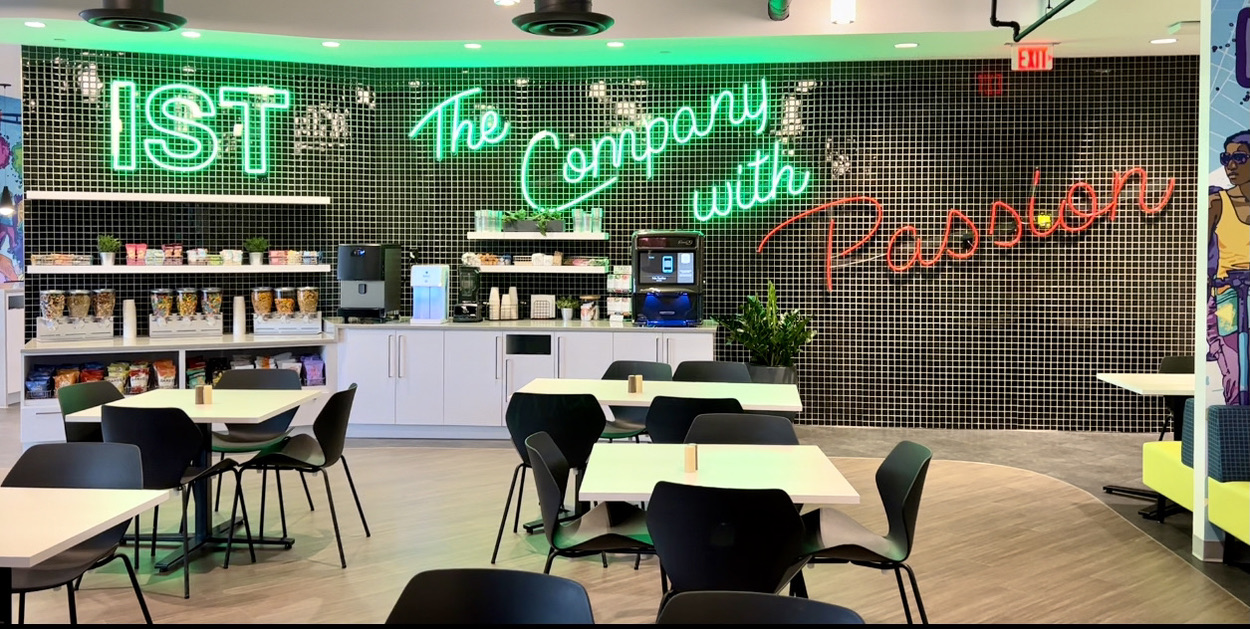 Making the Café a Community
Did you know that the kitchen is often considered the heart of the home? Yes, it's true! This is because food tends to bring people together. Therefore, IST's Café could be viewed as the heart of the office. Co-workers can share a meal together or even with their families without leaving the building. That's right, all are welcome to enjoy!
So, what does the café offer that sets it apart from other Atlanta breakrooms? Keep reading to find out!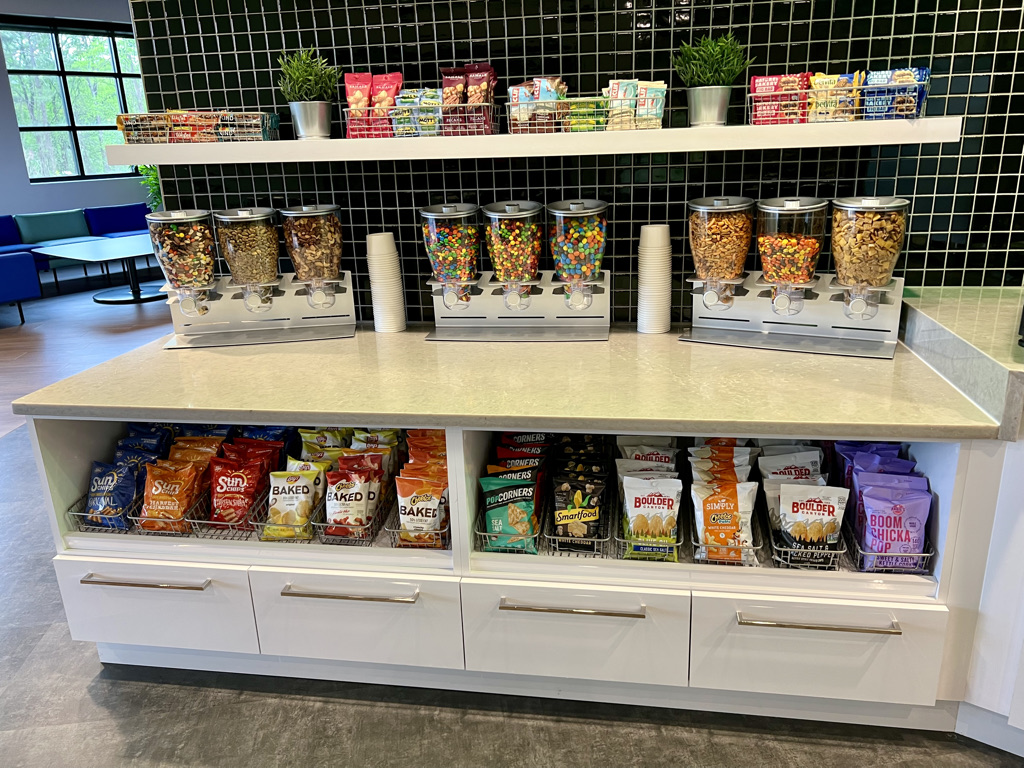 Snacks on Snacks on Snacks
With the perfect mix of sweet and salty snacks, IST's breakroom cafe is stocked to satisfy any craving. Products are displayed in sleek bulk dispensers and pantry baskets. So, finding something to eat is quick and easy. From Classic M&M's to Nature Valley Bars, being "hangry" is in the past!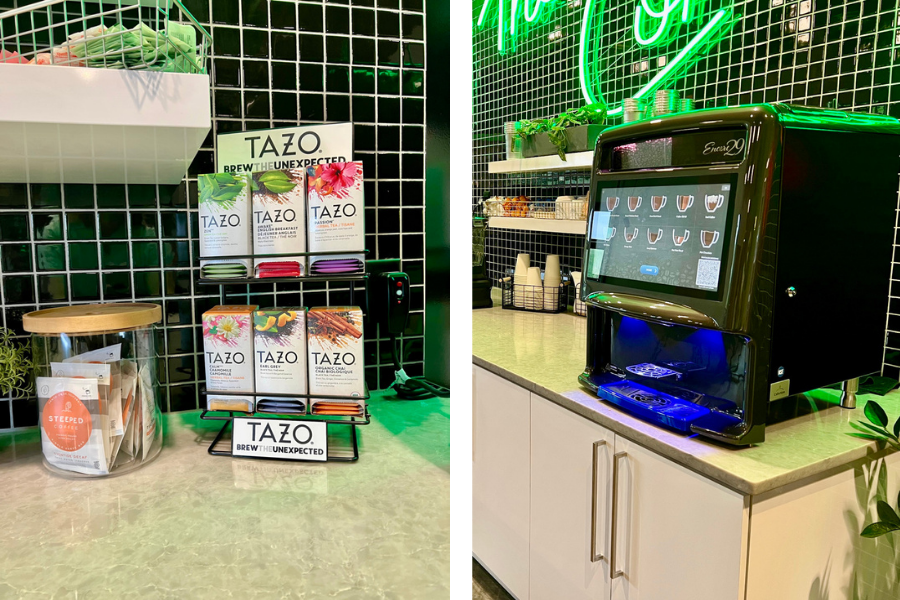 Caffeination Station
The Encore 29 coffee brewer is a major breakroom standout. Filled with three coffee blends from local roasters, everyone can personalize their cup. Individuals can select their blend, brew strength, cup size, and creamer preferences. Moreover, this state-of-the-art brewer also has specialty drink options like lattes and espressos. Needless to say, IST employees love crafting their favorite brew!
Eco-Friendly Hydration 
The Bevi water cooler is another unique feature of the café. With carbonation and flavor customizations, keeping everyone healthy and hydrated has never been easier! Even better, it encourages employees to refill their water bottles. If an individual forgot their cup, no problem! They can grab one of the aluminum cups available on the shelf. Unlike other recycled cups, employees can use them multiple times. IST is paving the way to a greener tomorrow, one glass of water at a time!
Take Note from IST, "The Company with Passion"
IST has created an employee oasis in their new Atlanta headquarters. With a modern design, functional seating, and enticing refreshments, the café is a success. Bradley confirmed this by saying, "When I visit the café, I often see people I typically wouldn't see outside of my department. It's quickly becoming the team-building space we hoped for."
If you're interested in boosting your breakroom's benefits, Coolbreakrooms is here to help! With our growing network of Authorized Providers, we have the resources to craft your company's ideal service. To learn more, contact us today for a free consultation!