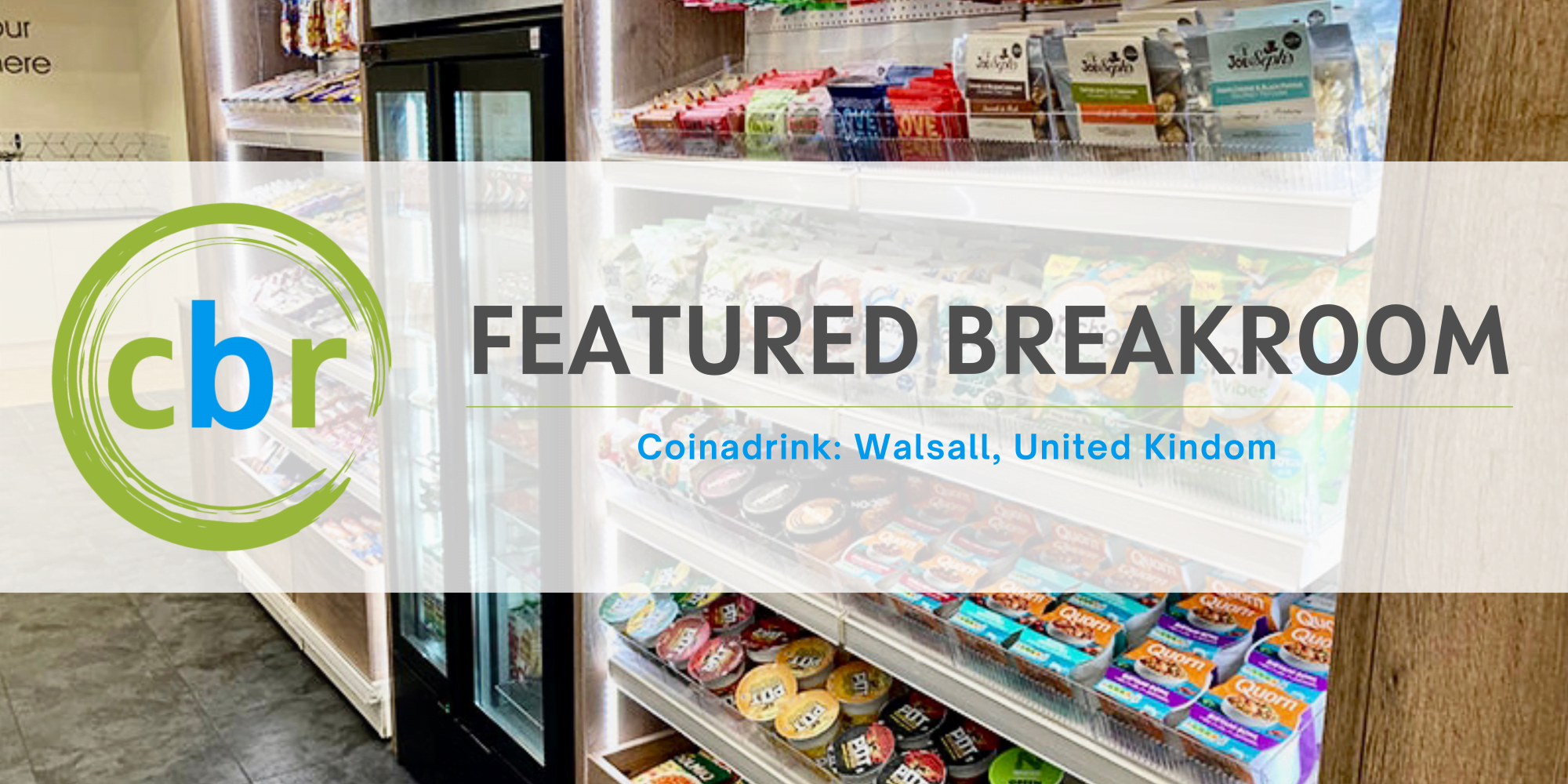 23 Mar

Creative Breakroom Design: Fresh New Micro-Market

Coinadrink is a vending operator in the United Kingdom that is pushing new boundaries in creative breakroom design. With their latest installation, Sales & Marketing Manager Tom Williams and his team were able to provide their client with a brand-new breakroom and an easier way to satisfy employees.

When Coinadrink's client first reached out for a breakroom upgrade, they had a number of frustrations they were trying to solve. At the time, they were offering employees a combination of traditional vending machines and on-site catering.  But, the breakroom was getting difficult to manage in-house. The client's catering staff was only able to prepare food at select times of day, leaving employees dissatisfied during off-hours. They were also taking on the task of restocking the vending machines themselves.  It was time to find a local vending company that could offer better products and service.
A showroom that sparks ideas
Tom met with the client at Coinadrink's office showroom, which features an interactive micro-market display.  After seeing the micro-market concept, the client wanted to learn more.  A quick discussion about vending machines turned into a lively conversation about the benefits of a micro-market.  That conversation led to a design consultation on-site.  
Coinadrink developed a well thought out plan for a new breakroom with gourmet office coffee, a focus on wellness and sustainability, plus smart spaces for employees to relax or work together. It would utilize local, fresh food providers. It would be accessible 24/7. In addition, it would provide massive cost savings over what the client was currently paying for on-site catering services. With a proposal like this, it's no wonder Coinadrink was given a blank canvas to bring their vision to life.

Gourmet Office Coffee
Coinadrink installed Gaggia's La Radiosa coffee machine to wow employees. It stores 2 different types of beans to give employees access to freshly ground regular or decaffeinated coffee. Its interactive screen is easy to operate and displays a wide assortment of gourmet beverage options.  The machine dispenses fresh milk – perfectly foamed, hot or cold. 
A stand with coffee syrups and other flavorings allows employees to personalize their coffee further. On a recent visit, an employee approached Tom to thank him.  "You saved me £2 a day!" she exclaimed. "The coffee at the office is now so much better than the coffee shop I used to visit every morning on my way to work."
Healthy Snacks & Fresh Foods
So many choices available all day long! In addition to a bounty of cold beverages and healthy snacks, a large fresh food section is a focal part of the breakroom. It has received a tremendous response and employees prefer it over their old catering program.  In fact, after office coffee, fresh foods are the second most purchased category in the micro-market. Fresh sandwiches, salads, and meals are delivered daily from a local food supplier located less than 10 miles from the office. Employees are impressed with the quality and generous portions. They also appreciate the variety of products that appeal to dietary preferences, like vegan, halal, and gluten-free.  These options are well marked on the packaging so employees can spot them easily on the shelves.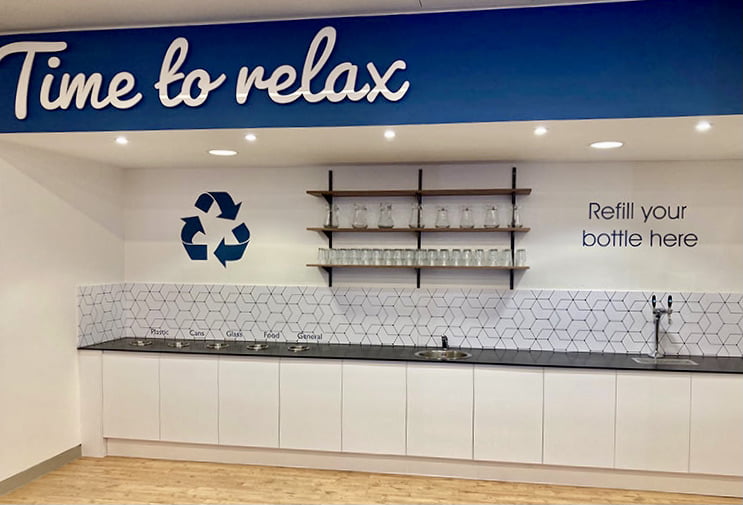 Sustainability
A number of initiatives were put in place to create a more sustainable breakroom. The client's bottled water delivery was ditched and replaced with a new hydration station. Sparkling water was added too.  Employees are encouraged to further reduce waste by refilling their own water bottles. 
There is also a section in the breakroom dedicated to recycling.  Special bins for food waste, compostable materials, etc., are well signed and easy to follow.  Coinadrink is working with their fresh food supplier to change their packaging to 100% recyclable over the coming months. 

Collaboration and comfort
What makes this new breakroom really come together is the well-designed areas for employees to dine and collaborate.  There is breakfast bar style seating as well as more cozy, private booths.  Lots of natural lighting gives the space a bright, airy feel.  Employees have begun using the space for informal meetings and the client is considering adding similar seating options to additional areas of the office.
The breakroom has boosted employee morale and better satisfies the client's hybrid workforce.  Their 800 employees rotate days throughout the week and approximately 300 of them use the breakroom on any given day.  The positive response for this creative breakroom design has been a catalyst for more fun changes in the office.  In fact, the client plans to add entertainment areas for games like pool and table tennis very soon. 
Enhanced breakroom services create positive change in the workplace – and we make it easy to get the job done right!  Coolbreakrooms is your headquarters for all things breakroom.  Contact us for a free consultation.