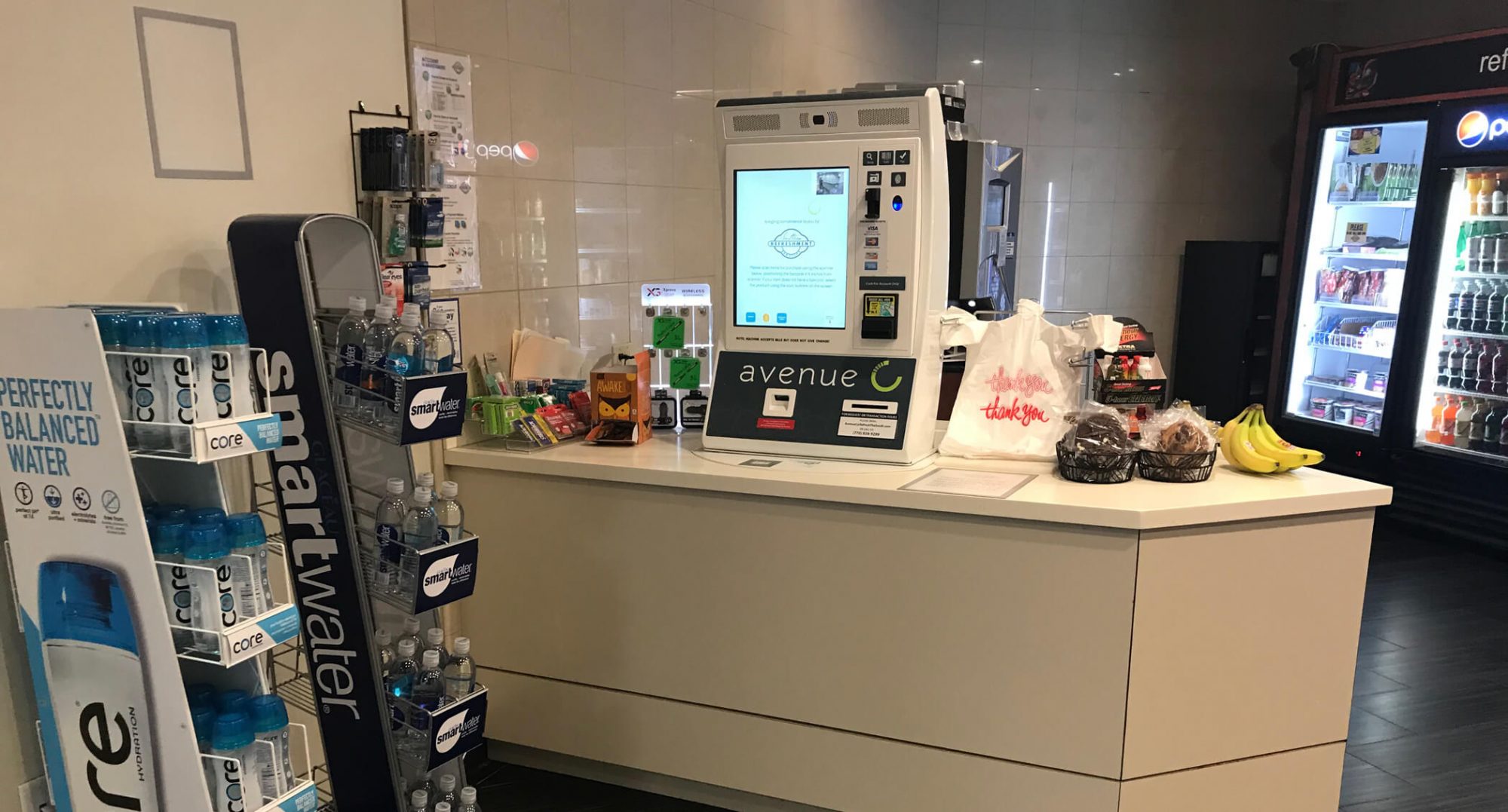 08 Jul

Featured Breakroom: ApolloMD
Convenient Snacking
ApolloMD
Atlanta, GA
Bright and airy, a micro-market entices ApolloMD employees to enter the breakroom for a quick snack or thirst-quenching beverage during their busy day. Much like ApolloMD deepens customer satisfaction at hospitals by employing physicians and hospital staff, the elevated design and open concept of its refreshment area deepens the benefit for employees.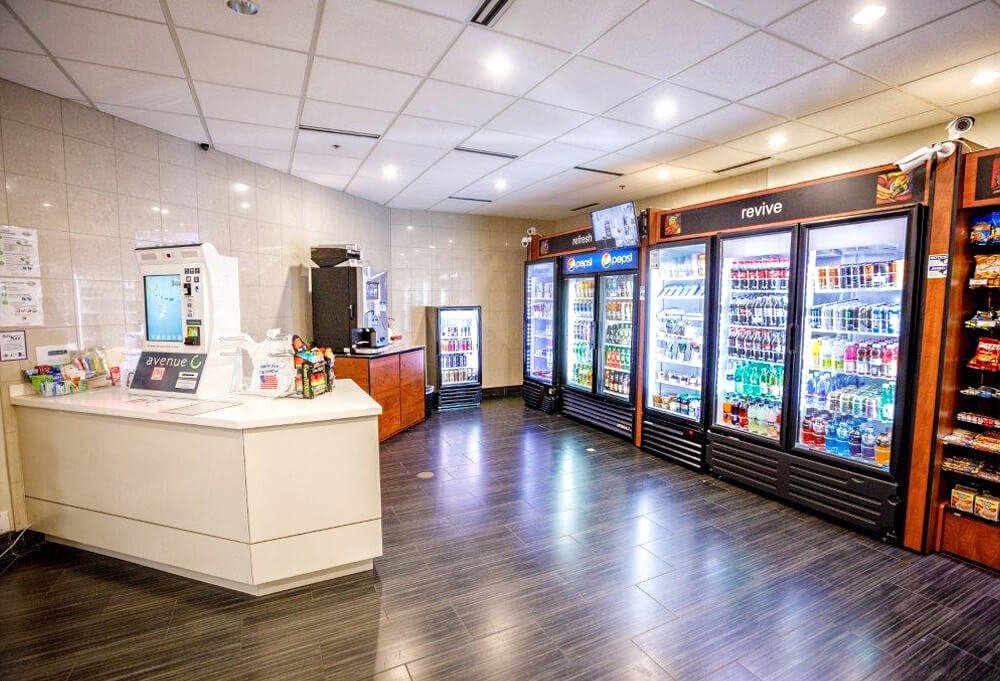 Unique concept
"I don't know how many other facilities have a mini mart like this," says Kim Messer, executive assistant to CEO, COO, at Apollo MD. The glass enclosed mini mart, also called a micro-market, offers a bountiful selection of cold beverages, prepackaged snacks items, and some refrigerated food options. There are microwaves along the wall to heat up entrees, and even plastic bags near the self-checkout kiosk for employees to carry their purchases. The entire market is in a 25 foot by 25 foot room off the main building lobby and looks like a high-end bodega.
Kim says her favorite part is the convenience it offers. "It gives people options 24/7 to allow them to get snack foods, drinks, and some meals — they can pretty much get a typical meal without leaving the office," she explains. Employees are able to grab what they need and get back to work, staying productive.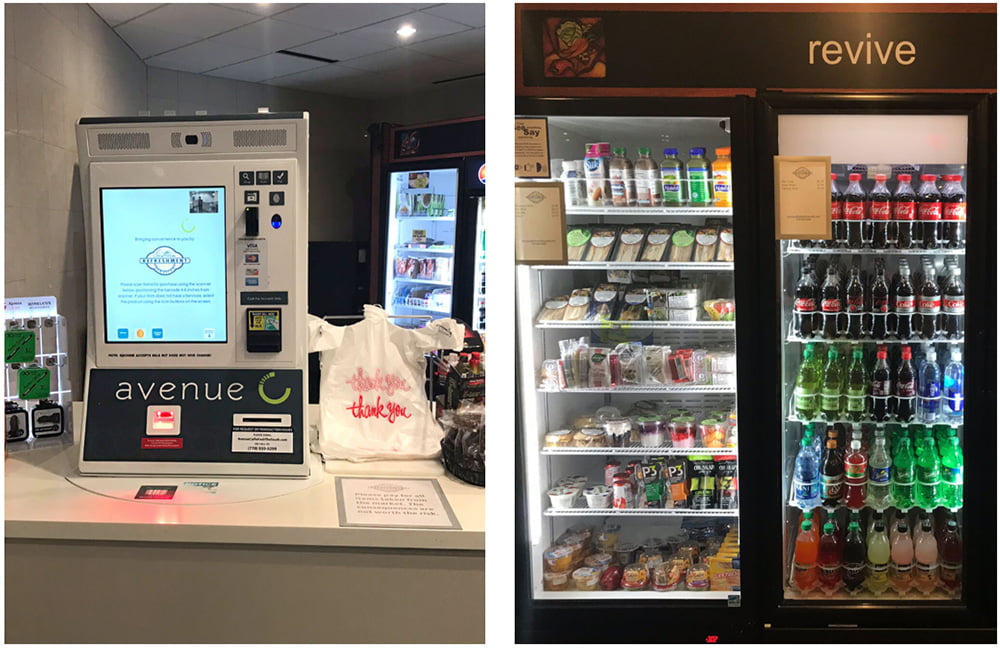 Money savings
Before installing the micro-market, ApolloMD was looking for a way to provide refreshment for its more than 400 employees without hiring a full time employee. The answer was using a third party to provide the service — Southern Refreshment Services. Southern Refreshment Services suggested the micro-market concept, designed the space, placed the fixtures, and continuously restocks the area. Kim appreciates working with such a dedicated service provider, saying they are always on top of things.
Another savings for ApolloMD is that employees purchase the items in the micro-market. Kim explains how employees can go in and scan the items they want at the self-checkout kiosk, and pay from their account on file or input their credit card. Employees can also use the kiosk to load money into their micro-market account for future purchases.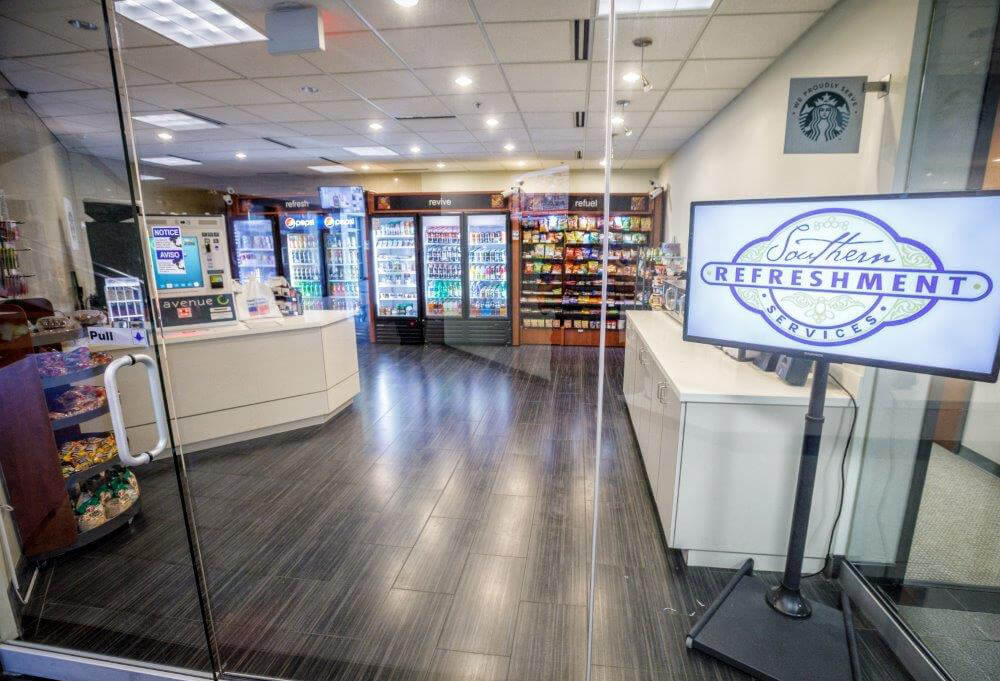 Custom menu
ApolloMD works with Southern Refreshment Services to decide what products should be offered in the micro-market. Kim says that the company opts for more shelf-stable, non perishable items to keep waste down, but still offers a selection of food and fresh fruit. Southern Refreshment Services monitors what the employees buy and suggests alternatives when a product does not seem to be popular. Kim explains that ApolloMD staff meet with Southern Refreshment Services quite often to tweak the micro-market offerings in order to enhance the benefit it provides.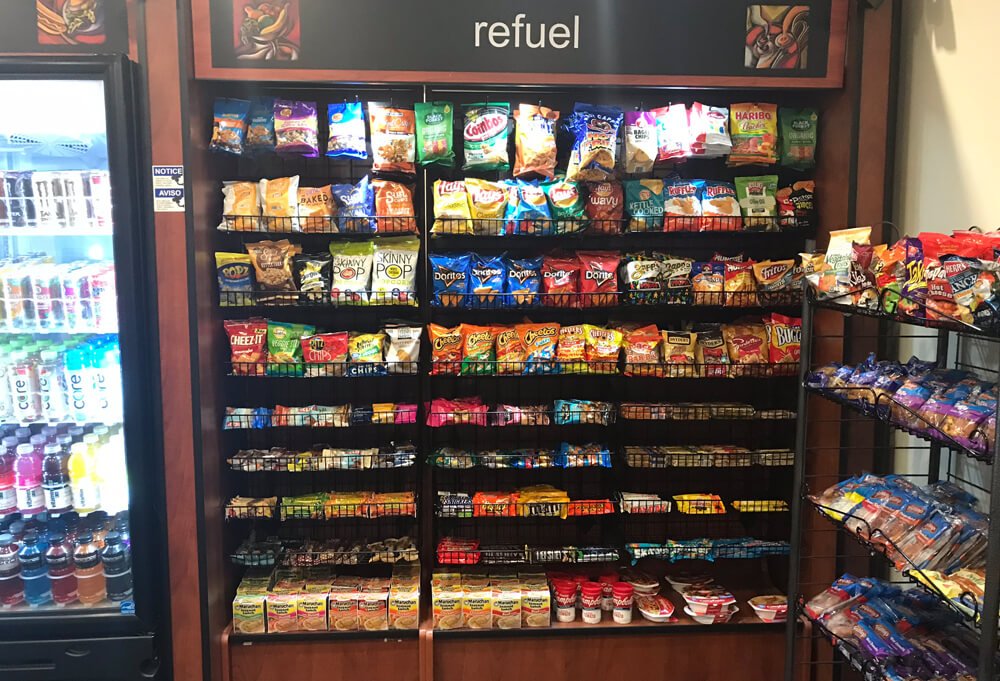 The door is always swinging
The micro-market is a selling point with the building, according to Kim. There are a couple other large size companies in the same facility as ApolloMD, including a call center that is staffed 24/7. That staff can't necessarily go out in the middle of the night to get something to eat, so the micro-market provides an appreciated alternative. That is one of best parts about it being self-sufficient. It is open at all hours. It assists ApolloMD employees and others in the building to achieve a bit more work and life balance and beautifully meets their refreshment needs.
Company: ApolloMD, medical services aligning physicians and hospitals
Location: Atlanta, GA
Employees on location: 400+ employees
Unique attributes: Self-checkout kiosk employees use to shop the mini mart
Breakroom size: 625 square feet
Best feature: Convenience of a variety of products available without leaving the office.
Most important asset: Working with a service provider that stays on top of product inventory.
Main service provider: Southern Refreshment Services based in Tucker, GA