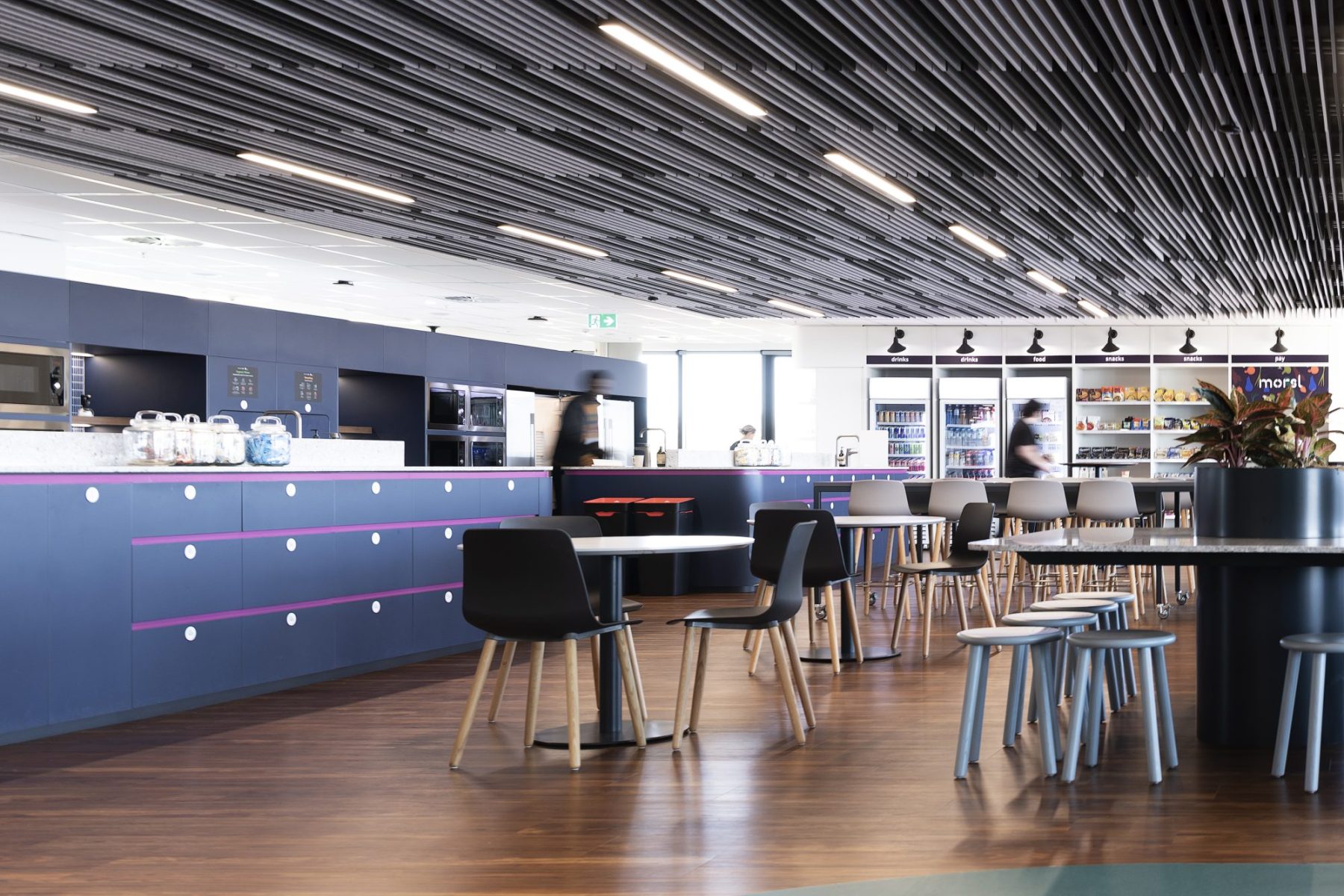 27 Jul

Amazing Australian Micro Market

Morsl is Australia's leading provider of healthy workplace food solutions and is transforming breakrooms across the country! This celebrated Australian pioneer's CEO & founder, Karla Borland, is committed to making delicious, healthy food more accessible at work, and employees throughout Australia are seeing the benefits.

By collaborating closely with clients, Morsl customizes its micro-market design and tailors its offerings to meet its client's unique needs. Morsl now has over 26 sites and successfully delivers convenient, nutritious food and drink options in varied workplaces across Australia.

Morsl successfully partnered with Greenstone Financial Services, Australia's largest provider of direct insurance, to complement their new offices' breakroom design. Greenstone is a certified Great Place to Work and prides itself on providing its employees with an extensive suite of benefits, including their Coolbreakroom from Morsl! Greenstone's vision to provide a fun and functional space for its 650 employees to gather and refuel is now a reality.

Here are some special features we love about this flagship Australian breakroom:`
Open Micro-Market Concept
The market boasts a double-sized snack area and a large stainless-steel refrigerator for quick access to a menu customized to Greenstone employees' needs. The offering includes fruit, yogurt, fresh sandwiches, wraps, salads, paninis, fruit, and healthy beverages. Bright open shelving and fridges allow employees to browse and compare products easily before making their selections.

Modern & Reliable Micro-Market Technology
The micro-market offers a convenient checkout process through cashless self-service kiosks that are fast, easy, and secure. With the help of 365 Retail Markets technology, predominantly call-center, shift-based employees can now purchase fresh and healthy food 24/7. Additionally, Arlo Go Surveillance cameras ensure the micro-market is safe and secure, providing peace of mind regarding security and theft.
Greenstone and Morsl work together to provide employees with a monthly credit to their Morsl micro-market account. This can be securely accessed at the kiosk using fingerprint technology or any individual barcode. After the successful launch of this concept, it is quickly gaining popularity among new Morsl clients as a powerful workplace incentive.
Micro-Market Product Quality & Rotation
The Morsl team is always working to keep their menus fresh and their service exceptional. All Morsl markets feature QR code feedback encouraging employees to request new products or provide suggestions. Morsl is on-site regularly to ensure the quality of the product offering, interact with employees and listen to their feedback.

Indoor & Outdoor Spaces
The breakroom is located on the uppermost level of Greenstone's 6-level office. Adjacent to the traditional kitchen facilities of the breakroom is a terrace with covered and uncovered amenities; BBQs used for team lunches and celebrations; state-of-the-art AV equipment; and beautiful rooftop gardens.
Comfortable & Social
The workspace offers many seating options that encourage social interaction. Cozy couches surround the television, outdoor lounges, large tables with stools, and smaller tables. They have truly built an employee oasis!
 
Emphasis on Health & Wellness
This beautiful breakroom prioritizes its employees' well-being and fosters a healthy work environment by providing a Challenge Zone. Employees can take their minds off work to gather to enjoy a few rounds of table tennis, blow off some steam on the PlayStation or kick back with some board games.
Embracing Sustainability
Greenstone is strongly committed to sustainability and takes responsibility for making positive and meaningful contributions. To reduce waste going to landfill, they have implemented refined waste management practices throughout their office, including co-mingled recycling, organic waste, and coffee cup recycling in their breakroom.
Coolbreakrooms searches the world to discover inspiring breakrooms that help our customers dream, design, and build their own employee oasis. Are you thinking about upgrading your breakroom? Look no further! We offer the guidance and recommendations necessary to kick off your project. With our team of seasoned Coolbreakrooms Authorized Providers, you can trust that the job will be completed to perfection.  To learn more, contact us online or call (800) 795-6799.