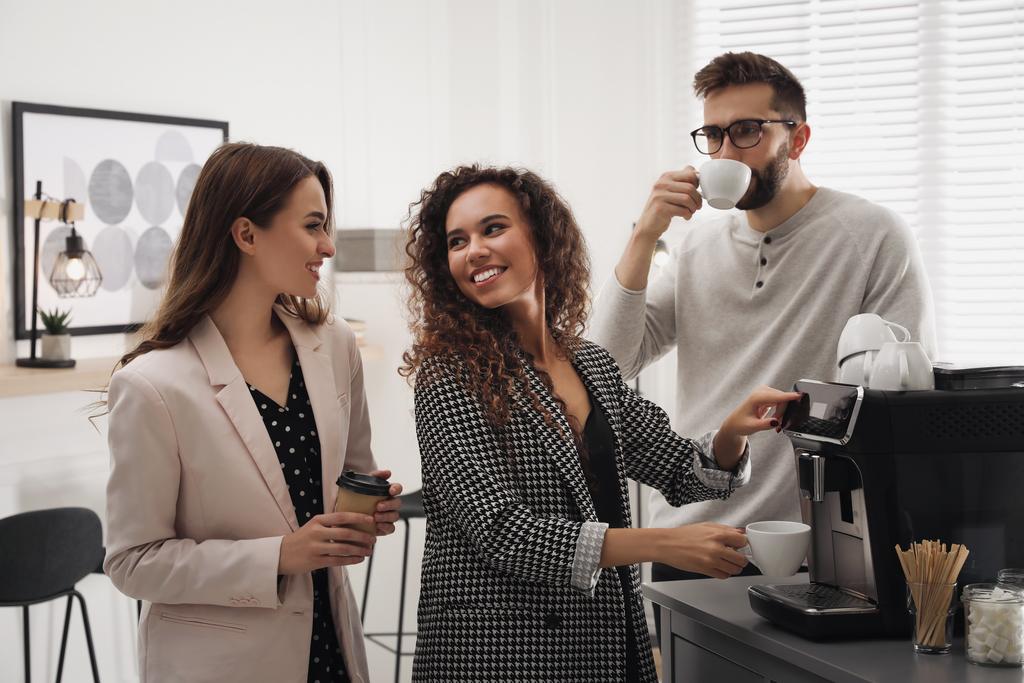 16 Oct

Office Coffee Equipment: The Basics

With the plethora of office coffee equipment out there, it can be hard to know what's what. For example, does your office need a traditional coffee brewer? Or is a touchscreen bean-to-cup machine a better fit? And what is a frac pack, anyway?

If you've got lots of office coffee questions, you're in the right place. Our coffee equipment rundown will cover the basics and help you start a great conversation with our Coolbreakrooms Authorized Service Providers.
What Office Coffee Service Equipment Types Are There?
There are two main types of coffee brewers used in office coffee service today. Traditional coffee brewers and single-cup coffee brewers. However, in the single-cup brewing category, there is a highly advanced category of its own: the bean-to-cup coffee machine. If we are losing you already, don't worry. We'll define each type and answer some common questions.
Time Tested Traditional Coffee Service
Traditional office coffee service is known by many names: batch coffee brewing, traditional pot brewing, air pot coffee, regular office coffee service, and more. Whatever the name, it's the workhorse of office coffee. It brews coffee in a glass decanter, large pot, air pot, or thermos to meet high demand. The coffee is well-insulated to keep it hot and ready for lots of employees and customers. 
The beauty of a traditional coffee brewer is that it's typically plumbed-in to your water line so the water reservoir automatically refills with a push of a button. Coffee comes pre-measured in fractional packs, or frac packs, for short. To brew, you open the frac pack and pour in the pre-ground coffee, then press start. It's that simple to brew delicious coffee that is hot and accessible for the entire day. 
There are many coffee brands available for your pot brewer. And, some brewers allow you to control the coffee-to-water ratio or set a pulse brew. This lets you adjust the brew strength and flavor to your taste.
The Convenient Single-Cup Coffee Machine
Single-cup coffee machines are praised for their ease of use. They also have the ability to cater to a wide variety of individual tastes. This type of brewer makes coffee one cup at a time, as the name implies. It uses pre-ground coffee in individual capsules, small plastic cups, or filter pouches. There are also specialty single-cup machines that use concentrated liquid flat-packs to produce coffee, tea, and other drinks. 
There are hundreds of brands that offer coffee (and more) in preportioned, single-cup packaging. This makes it easy to provide a vast assortment of coffee, tea, espresso, hot chocolates, and even soups in the breakroom. One employee can insert a capsule to enjoy a dark roast black coffee. The next can use a different capsule to have an aromatic chai latté.
The Gourmet Bean-to-Cup Coffee Machine
The luxury sports car of office coffee equipment is the bean-to-cup coffee brewer. It's the ideal choice for offices that want freshly ground coffee and gourmet specialty drinks from one innovative machine. Order coffee drinks through a user-friendly touchscreen. For each drink, the correct volume of coffee beans drops from the hopper on the top, gets ground, and then brews. You hear and smell this happening, creating a more immersive coffee experience.
After brewing, your coffee is either dispensed or further crafted to create a specialty coffee beverage with flavoring or even freshly steamed milk.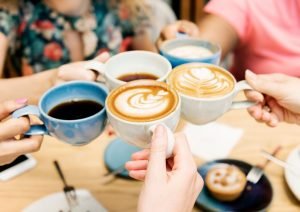 A bean-to-cup coffee machine can make any number of drinks. Enjoy classic black coffee, espresso, lattes, cappuccinos, and more.  It requires no barista training. Plus, the person ordering the drink can completely personalize it.
Great Office Coffee Equipment is a Coolbreakrooms Must
Now that you know the basic difference between types of office coffee equipment, which is right for your office? A traditional brewer, a single-cup machine, or a bean-to-cup brewer? Perhaps it is time to re-evaluate and upgrade your current brewing machine. Don't be shy about upgrading to what suits your office environment best. Your employees will thank you!  Want to dive deeper into the pros and cons of each type of office coffee equipment? Contact Coolbreakrooms for help. Plus, we will connect you with an Authorized Provider who's an expert at creating coffee magic in the breakroom.