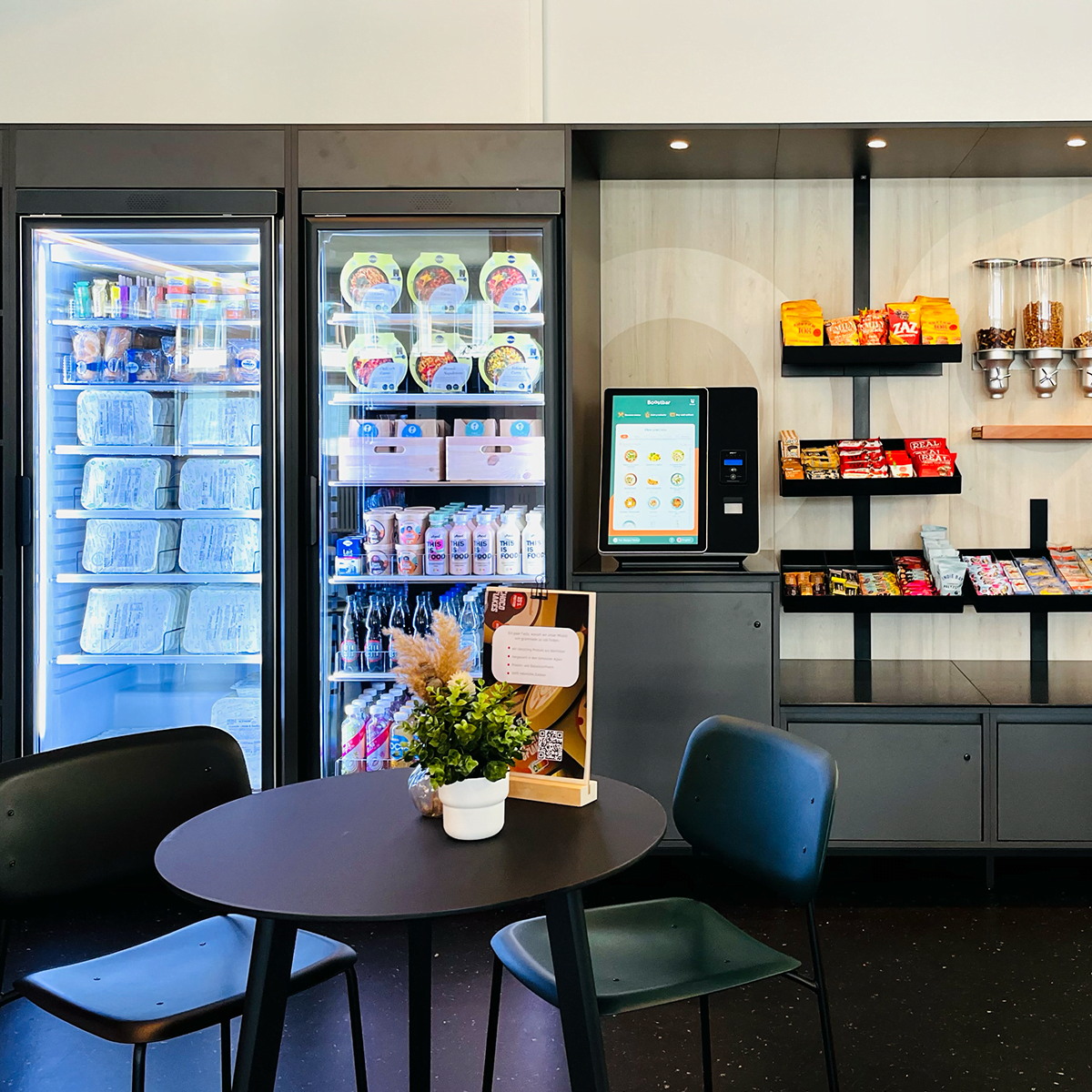 19 Sep

Boostbar: Revolutionizing Breakrooms with Sustainability & Innovation

Boostbar embarked on a mission in June 2020 to revolutionize breakrooms in Switzerland and Germany with sustainable and convenient solutions. Their innovative technology and their unwavering commitment to sustainability are transforming the approach to breakrooms.
Sustainability: Mission Zero Waste
Boostbar is committed to sustainability and has made "Mission Zero Waste" the centerpiece of its operations. To achieve this, they have made a conscious effort to reduce their reliance on fresh food. Why? Fresh food has a limited shelf life, which leads to an average of 30% waste for operators. Additionally, the constant need to restock wasted food from coolers contributes to unnecessary emissions. Instead, Boostbar offers frozen ready meals that have been shock-frozen immediately after preparation.
Did you know that food generates more emissions than transportation? A staggering 30% of these emissions take the form of "waste" through unsold products or unnecessary transport routes. Thanks to innovative concepts and digital technology, Boostbar has reduced journeys by a staggering 80% and achieved a mere 1.9% food waste. This is 90% less than traditional "Smart Fridge" concepts.
Furthermore, Boostbar's commitment to local suppliers has resulted in shorter transport distances, leading to a 90% reduction in unnecessary journeys and food waste. For Boostbar, sustainability is not just a buzzword but a way of life.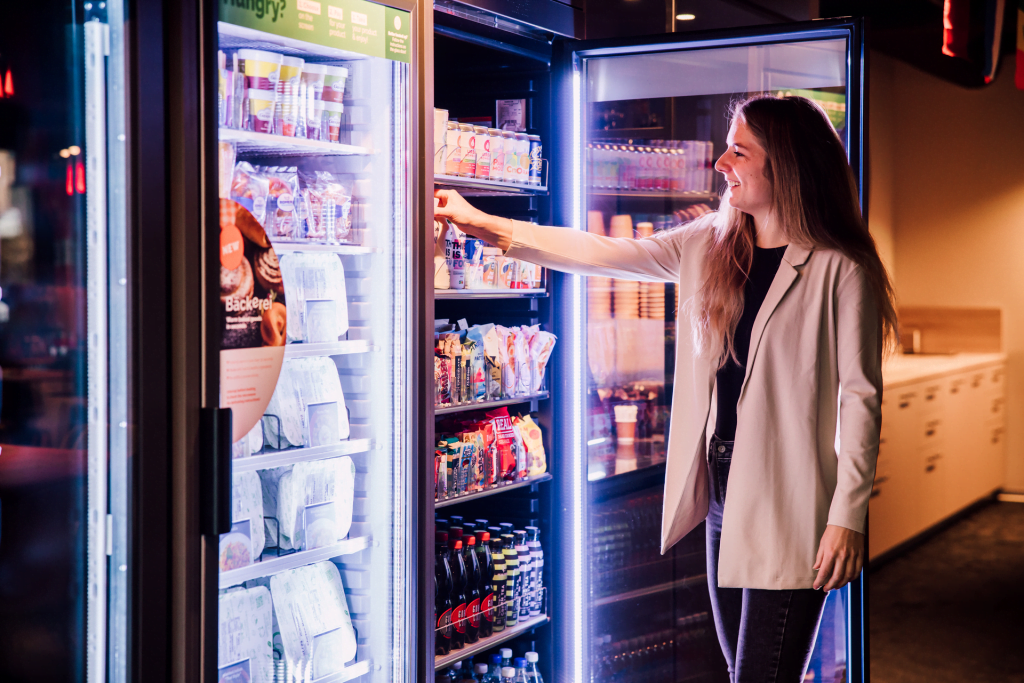 Health & Wellness: Fresh, Nutritious Meals
When it comes to meal quality, Boostbar doesn't cut corners. All frozen meals are prepared by hand using fresh ingredients and are completely free of artificial preservatives. Their ready meals are shock-frozen to retain their nutritional value. Ready meals allow Boostbar to service coolers just once a week, making it convenient for your employees to enjoy delicious and healthy meals without sacrificing taste or quality.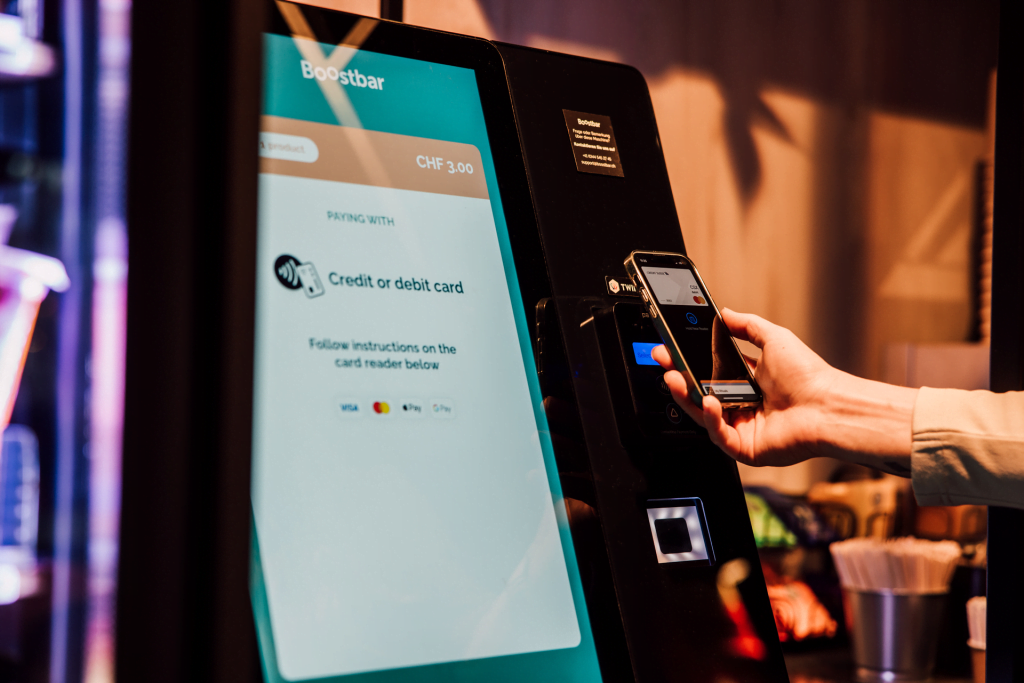 Cutting-Edge Technology: Effortless Experience 
Boostbar's secret weapon is their technology.  This system helps them provide top-notch service to their customers. The best part? Your employees and visitors can easily pay for their items with common payment methods directly at the machine, eliminating the need for badges or app downloads. It's all about making the breakroom experience effortless and seamless.
A Boostbar Solution for Every Need
Boostbar offers five distinct breakroom solutions to cater to the diverse needs of businesses:
The Fridge

: This fridge is perfect for smaller teams from 30 people. It's flexible and can stock snacks, drinks, and fresh products, making it a convenient option for those on the go.

The Freezer

: This Freezer is an excellent choice for teams with 50 or more members. It is both cost-effective and environmentally friendly, making it the ideal vending machine option.

The Bistro

: The Bistro provides a comprehensive catering solution for organizations with 80 or more employees, effectively transforming their breakroom into a small canteen.

The Market: The Market offers an entire Food & Beverage selection in an attractive and modular Micromarket set-up. Turning any break, from morning coffee to midnight snack, into an absolute pleasure.
Coffee Concepts: from coffee machines to coffee towers, Boostbar offers solutions tailored to every workplace's unique preferences and team size. Pick from a delightful menu of coffee choices, diverse roasts, and milk options to craft your perfect cup.
Boostbar is revolutionizing the world of breakroom solutions. They prioritize sustainability, incorporate cutting-edge technology, and prioritize health and wellness, making them an ideal partner for businesses seeking innovative and eco-friendly breakroom options. 
Intrigued by Boostbar's innovative breakroom solutions? Coolbreakrooms is always on the lookout for breakroom pioneers like Boostbar to enhance your workspace. Contact us today to learn how Coolbreakrooms can make your breakroom dreams a reality.