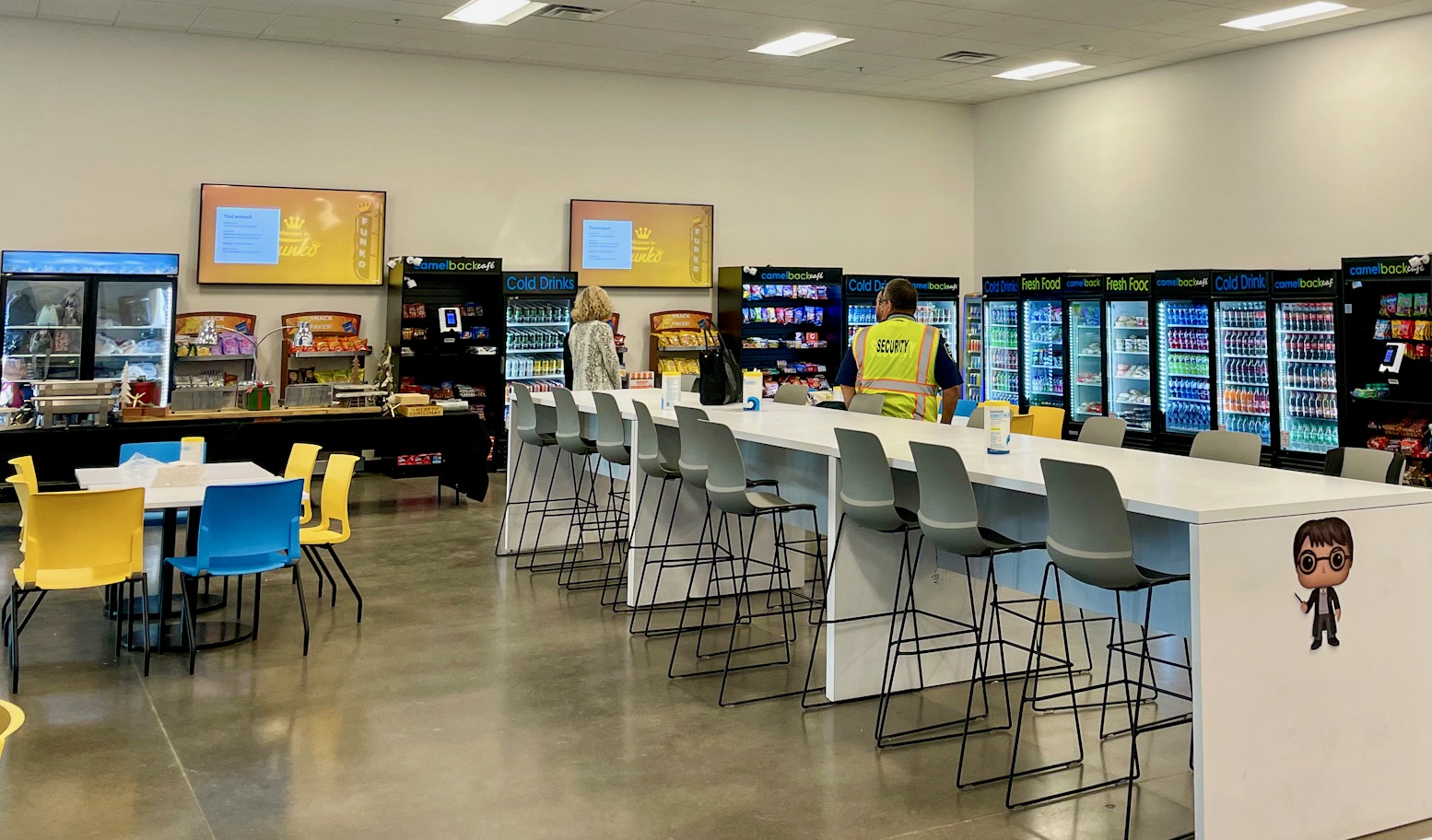 07 Feb

Satisfying Workers in a Food Desert

This busy Phoenix area warehouse and distribution center started with a smaller breakroom concept.  But as business boomed, their staff began to grow and satisfying workers became more of a challenge.  Their breakroom provider, Camelback Vending, took the lead in creating changes to keep up with demand.

Camelback Vending worked with the company's HR team. The idea was to develop a breakroom expansion that would satisfy employees' needs. Today, the breakroom is a large micro-market concept that contains 11 coolers and 7 snack shelves. It feeds over 700 employees. The demand is so high that Camelback Vending services the breakroom six days a week!
Plenty of Fresh Foods for Workers
This breakroom is stocked with a wide variety of items, including delicious snacks, beverages, and food. However, fresh food is the most popular choice. And there are two good reasons why. First, this 800,00 sq. ft warehouse is situated deep in the desert with very few food choices nearby. The company breakroom is not only the most convenient choice – it is also the best.  Plenty of fresh and healthy items are always on hand to satisfy demand.  Second, the staff at this Phoenix warehouse works 10-hour shifts. So, they take multiple breaks to refuel with energizing food and snacks.

Creative Caffeine Options
This client did not want a coffee station or coffee service, but that didn't mean they wanted to pass on the caffeine altogether. Camelback Vending got creative and fulfilled their client's refreshment needs with an energy program that would rival any convenience store. You'll find various unique and hard-to-find energy drinks in this micro-market. There's even a cooler just for a mix of Red Bull flavors.

Technology Keeps the Breakroom Stocked
Innovative technology lets the breakroom be monitored remotely. Camelback knows when inventories are low. That allows them to restock before shelves are empty. They are also able to see which items are flying off the shelves and which are slow sellers. As a result, product amounts and selections can be improved to ensure the micro-market is fully stocked with employees' favorite items.
 
Space for Workers to Play and Connect
This Phoenix business believes in investing in its employees' well-being. And it knows the breakroom is more than simply fresh foods, refreshing beverages, and plenty of snacks. That is why the breakroom has ample areas for employees to relax, recharge, and have a little fun together.  It is common to see employees laughing over a game of ping pong during breaks. Tables are spread out throughout the large space and a high-top counter has plenty of seats for larger groups to gather and dine together. This company has created a breakroom retreat to keep their employees happy on the job.
Are you a warehouse manager interested in providing a micro-market for your staff? Coolbreakrooms is here to help! We have an extensive network of Authorized Providers with the resources to create a breakroom that benefits you and your employees. To get started, contact us today for a free consultation.