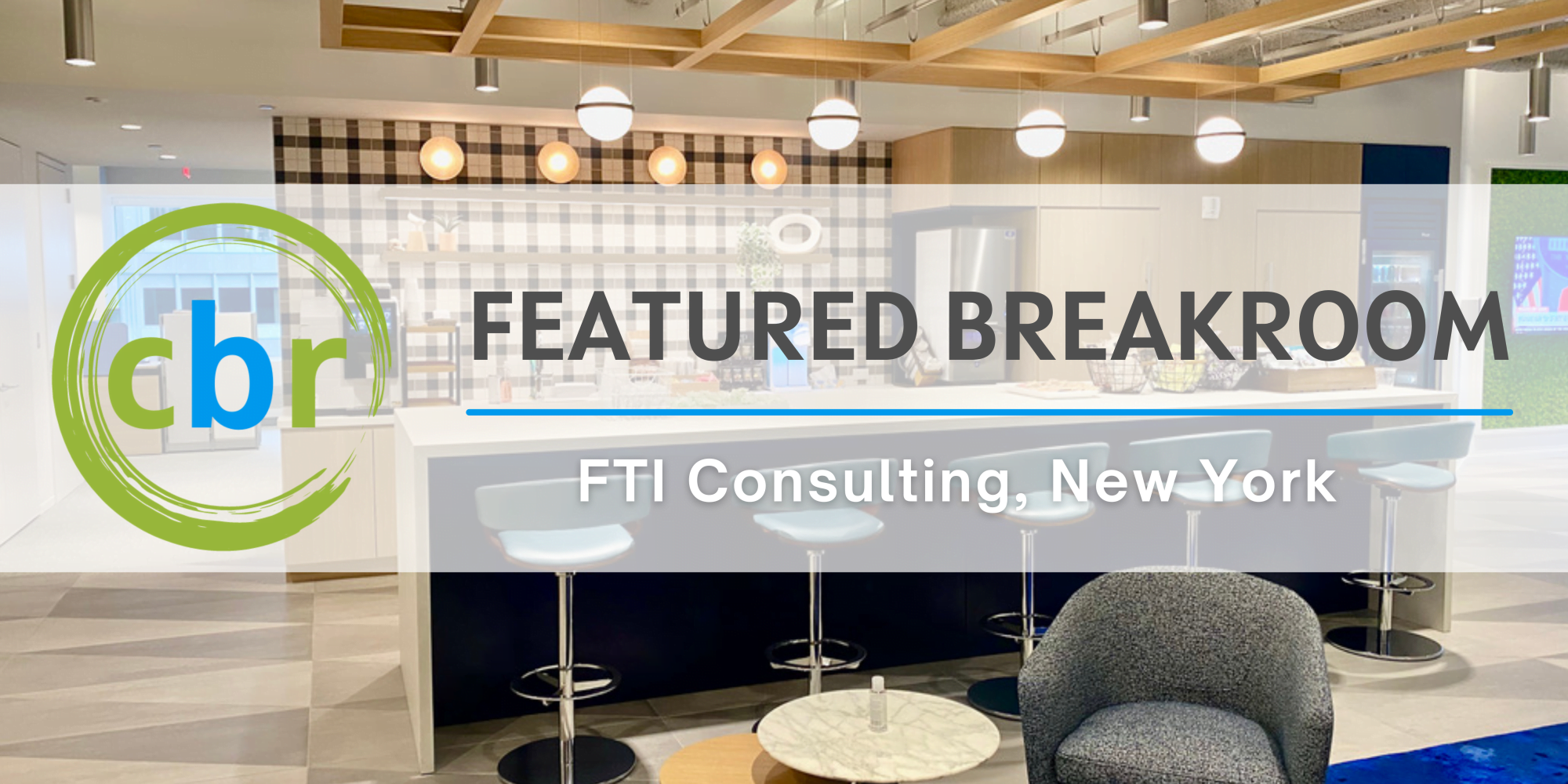 07 Apr

Modern Breakroom Oasis

Posted at 10:00h

in

Bevi

,

Breakroom Benefits

,

Cold Brew

,

Company Culture

,

Featured Breakrooms

,

Free Snacks

,

Fresh Fruit

,

Metropolitan Coffee House

,

NYC Breakrooms

,

Office Coffee

,

Pantry Service

,

Wandering Bear Coffee

A recent move gave FTI Consulting the perfect opportunity to create a modern new company breakroom. Their newest office location now unites 600 busy professionals on 3 floors in the heart of New York City – and offers them a breakroom oasis to dine, relax, and work together.

FTI worked with their internal teams to design an expansive central breakroom as well as "convenience destinations" on 2 additional floors.  The central breakroom offers a comfortable and open layout and plenty of modern amenities to attract employees throughout the workday. Max Goldsmith, President of Metropolitan Coffee House, provided guidance when it came to stocking the breakroom.  His company worked diligently to overcome supply chain issues from machine manufacturers and ensure the breakroom was fully functional on schedule.  Metropolitan Coffee House continues to guarantee FTI's New York City breakroom is filled with enticing snacks, refreshing beverages, and gourmet office coffee.

As a sign of appreciation, FTI made a conscious decision to provide all of its professionals with breakroom snacks, beverages, and office coffee at absolutely no cost. Pantry service like this has become increasingly popular as companies realize the positive impact breakroom benefits have on employee satisfaction and retention.

A welcoming atmosphere – Clean bright spaces, high industrial-style ceilings, and plenty of light greet employees in FTI Consulting's main company breakroom. Co-workers can relax in a variety of breakroom seating. Central counter space has tall stools for quick stops, long tables provide ample room for large groups to gather, and there are lounge areas for time alone or one-on-one chats. Breakroom TVs offer the latest news and entertainment as well.

Tempting snacks and beverages – An incredible mix of beverages is available in large coolers. Snacks are plentiful and arranged in attractive pantry-style baskets. The variety of snack and beverage products supports healthy choices as well as indulgent ones. Mornings are bolstered with oatmeal and granola bars while the afternoons are sustained with nuts, popcorn, chips, and other healthy snacks. FTI has also recently added an assortment of fresh fruit to the mix.

A caffeine fix – The office coffee equipment Metropolitan Coffee House installed is a breakroom highlight. The VKI Excellenza Touch is an eco-friendly brewer, with energy-saving options and no paper filter required. Its dual-chambers house two different types of coffee beans to create fresh espresso drinks, lattes, mochas, and hot chocolate. Countertop dispensers by Wandering Bear Coffee provide smooth, cold brew coffee at the perfect temperature with no refrigeration needed. It has proven to be an employee favorite all day long. The breakroom also dedicates its own space to tea, with steaming hot water at the ready along with a selection of tea blends.
Healthy hydration – A Bevi water dispenser is a focal point of the breakroom and offers both still and sparkling water in multiple flavors.  Employees are encouraged to use their own water bottles when filling up.
Sustainable features – Metropolitan Coffee House utilizes modern, energy-efficient vending equipment in all of its breakrooms and FTI is seeing the benefits.  The New York City breakroom also uses green paper products and provides reusable coffee mugs for all employees.  Trash receptacles are separated and clearly marked for recycling programs.
Essentials on every floor – FTI wanted to be sure essential conveniences were available to employees no matter where they were located.  That is why coffee machines, Bevi water dispensers, snacks, and cold beverages are readily accessible on every floor. 
FTI Consulting has only been in its new office location for 4 months and its incredible new modern breakroom has already received multiple compliments.  It has helped transform their new office location into a warm and welcoming home away from home.
Coolbreakrooms is your headquarters for all things breakroom! Our network of Authorized Providers makes it easy for you to modernize your company breakroom, no matter where you work.  Contact us for a free consultation.