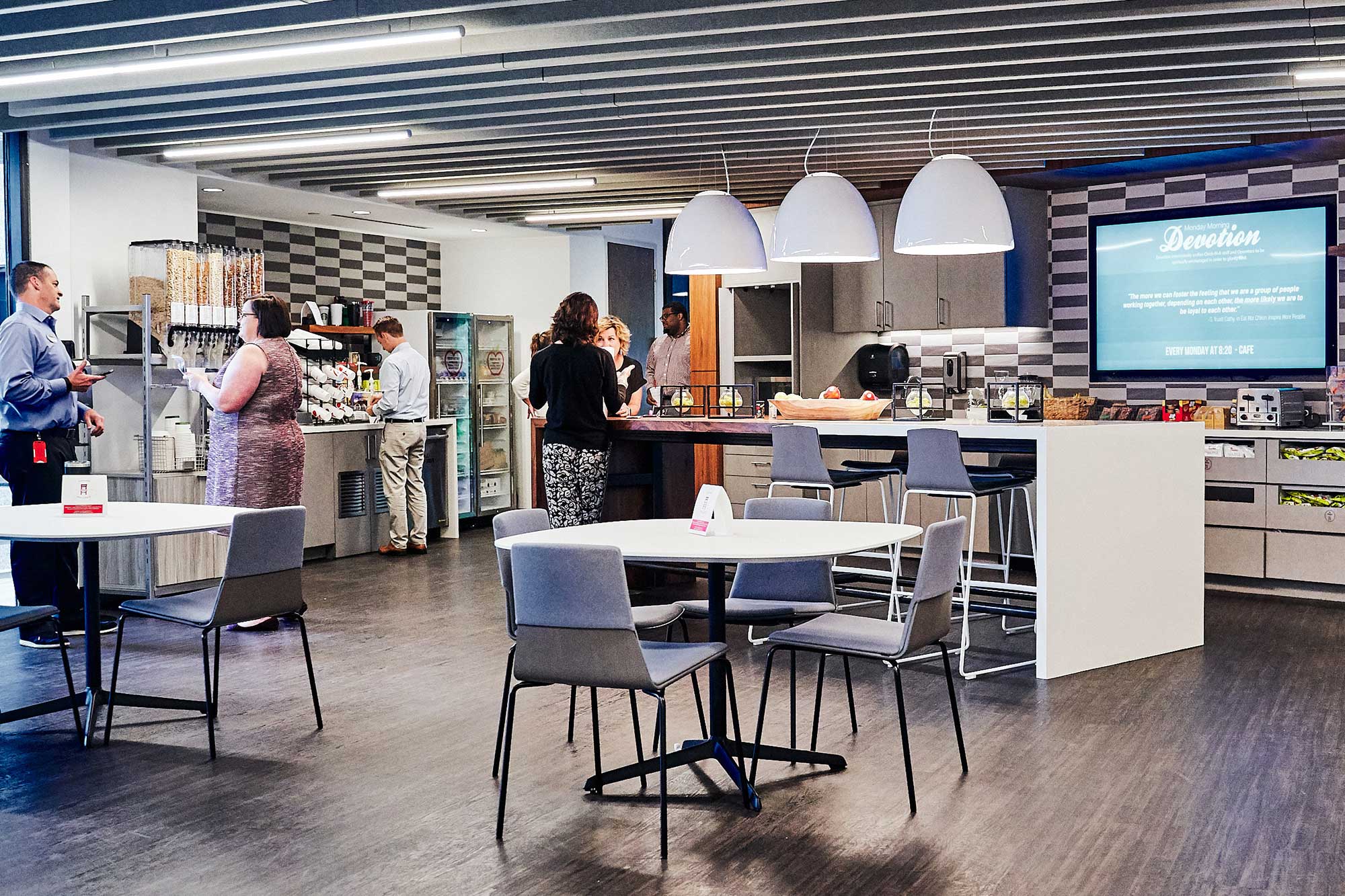 20 Jan

Featured Breakroom: Chick-fil-A
Evolving benefits
Chick-Fil-A
Atlanta, GA
Chick-fil-A has always believed in taking care of employees. Back in the 1960s, the company's founder Truett Cathy sent out for lunch every day to feed the staff working at the Hapeville, Georgia headquarters. As the company grew, the drive to provide refreshments shaped the layout of company breakrooms and what services were offered. Today, at the Atlanta, Georgia headquarters, Jay Akins, Beverage and Food Director, picks up the mantle of caring for employees by offering great food and drink benefits, including innovative breakroom design. He oversees the 29 breakrooms that are spread across the corporate campus, as well as a full cafeteria and brick-and-motor café featuring barista service. The breakrooms feed over 3,000 people per day, including 1,700 full-time employees as well as support staff and contractors that come to the campus daily.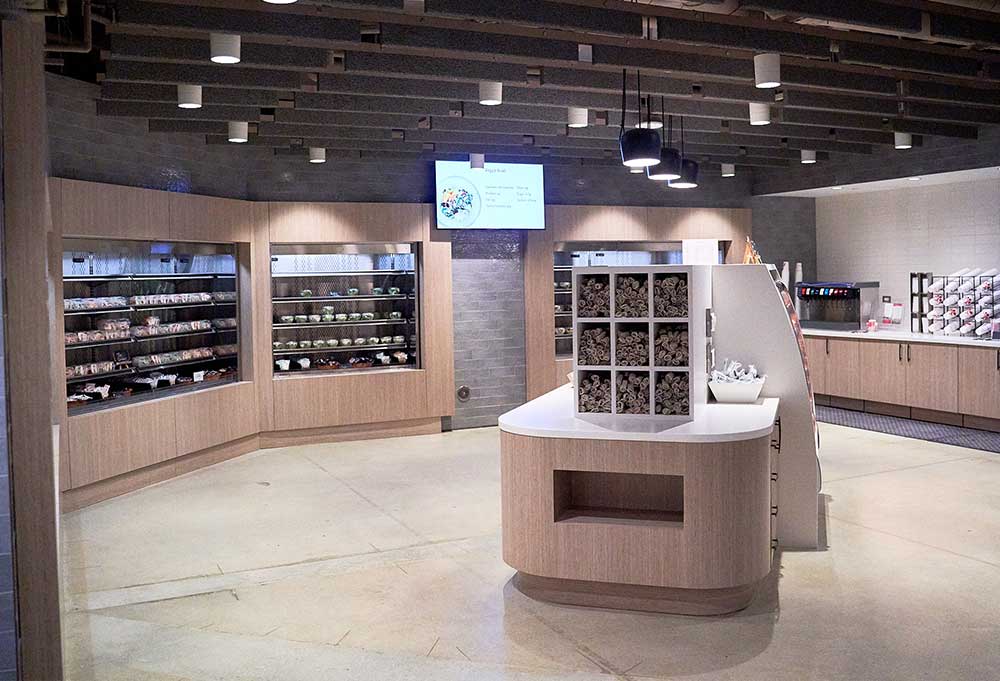 Designed for multiple uses
Visitors to new Chick-fil-A breakrooms will see that they are larger with plenty of booths and small tables perfect for employees to relax at or to continue working, even having informal discussions. Technology support has been integrated so employees can easily use mobile devices and access online services.
Akins explains that space for these enhanced break areas came from offices that weren't being used. An internal usage study revealed that less than 30 percent were utilized. It was decided that the resulting mobile workforce would be better served with expanded break areas that offered more pantry type offerings, including grab and go food and drinks.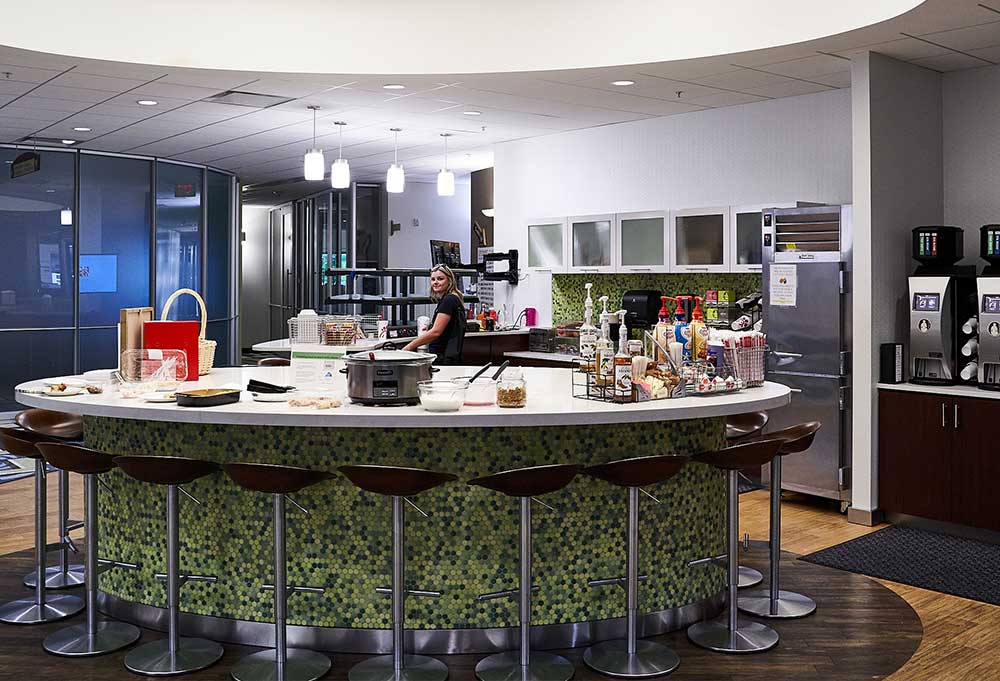 Strong partnerships & support
Akins gives much of the credit for the success of Chick-fil-A's breakrooms to strong relationships. Five Star Foodservice, a large on-site food and beverage service provider based in Chattanooga, Tennessee, provides much of the equipment and products to the Chick-fil-A corporate campus. Akins calls their help vital to the program. Five Star not only delivers on what Chick-fil-A asks, but helps the company innovate around where they want to be with refreshments.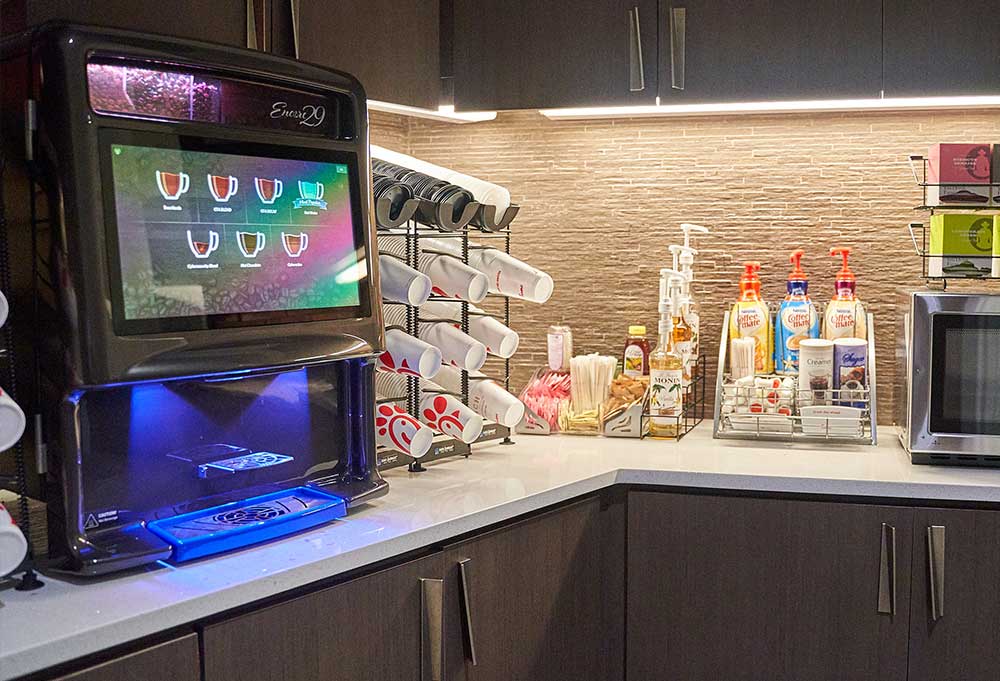 Fresh, top-tier coffee
Providing coffee is extremely important at Chick-fil-A. Akins jokes that if people didn't have coffee, the company probably wouldn't get work done. Chick-fil-A chose a coffee partner who could deliver quality and who mirrored their value of caring for people. Thrive Farmers based in Roswell, Georgia hit the mark. Akins calls them a fantastic partner who provides special roasts that are served in the campus breakrooms as well as in the 2,000+ Chick-fil-A restaurants.
Thrive offers a special menu in the corporate café centered around the company's belief in clean and healthy products. These items are a premium service not offered for free by Chick-fil-A, but employees love the opportunity to get unique drinks made by a barista.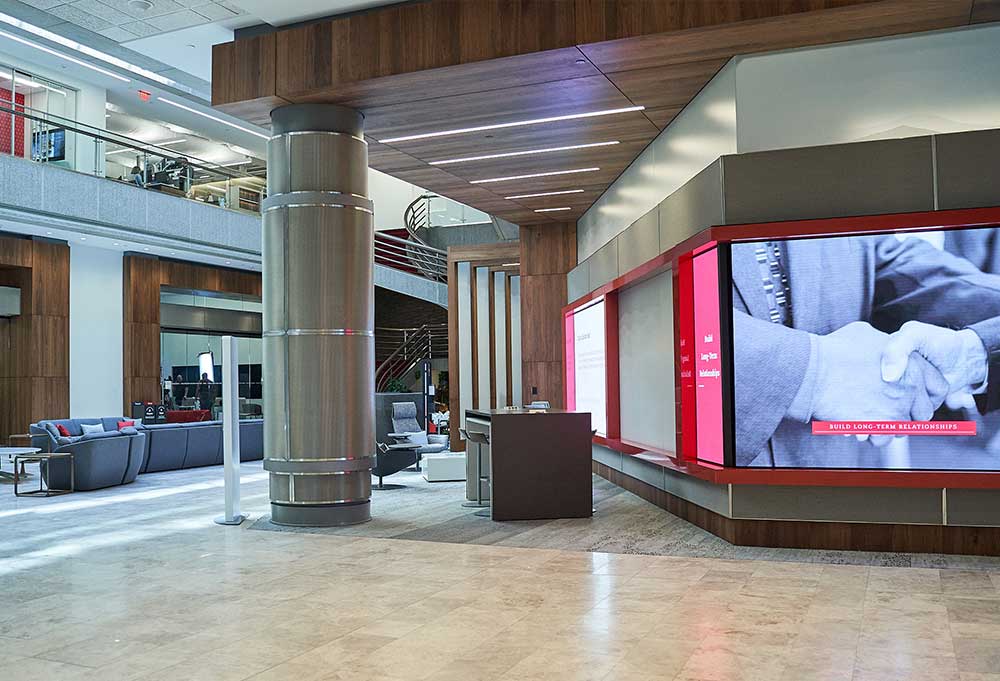 Designed for visual appeal
As a quick-service restaurant company, Chick-fil-A knows that people eat first with their eyes. Therefore, they wanted an appealing experience from the first moment someone entered the breakroom. Open coolers showcase packaged food provided by long-time Chick-fil-A partner Hanna Brothers, based in Fayetteville, Georgia. Snack items are a balance of decadent items and top tier healthy options. Bean-to-cup coffee brewers provide the sound of beans being ground and the smell of coffee being freshly brewed. Breakroom countertops are free of displays and condiments. Most of the items that employees need are beneath the counter in custom drawers that include a half transparent front. This allows items to be put away, but still be seen by employees.
Breakrooms are only part of the Chick-fil-A culture centered around caring. The Atlanta campus also boasts a wellness center, bandstand, on-site daycare, and hosts weekly events, such as the optional Monday morning devotional at the corporate café. It is this attention to benefits and extras that makes Chick-fil-A's breakrooms so unique.
Company: Chick-fil-A, quick-serve restaurant company
Location: Atlanta, GA
Employees on location: 1,700 full-time
Number of breakrooms: 29 across the campus
Unique attributes: Bean-to-cup machines in the breakrooms that brew a fresh cup of coffee each time.
Most important asset: Strong partnership with innovative providers, including Five Star Foodservice, Thrive Coffee, and Hanna Brothers.